Talk about a successful trip! We love Hakone! Can we move to Hakone?? I had heard rave reviews about the art museum…especially how stroller friendly and great for toddlers it is…so I assumed it would be a boring, toddler-paced destination. Nope! An added bonus was how easy this trip was. Plentiful parking (a rarity), short distances between each stop, and google maps worked (mostly).
Hakone is first and foremost an onsen town. Volcanic hot springs honeycomb the entire mountain, deep underground, feeding dozens of hot mineral baths in hotels, public bath houses, and Ryokens. You can even find a place to soak in a bath full of red wine, matcha tea, and ramen broth here. The Japanese are generally all about baths but in Hakone they really mean business.
Beyond the onsens, there's still so much more to see! It's the kind of town that could be a leisurely day trip or a fast-paced adventure; it's up to you. We like a full schedule…but also like to sleep late. Here's what we fit into a 2-day, 1-night trip:
The Open-Air Museum
The Hakone Open-Air museum is massive. It boasts one of the largest collections of Picasso's work, but also rolling hills, interactive art pieces, tunnels, mazes, koi ponds, and more. We spent a lot of time enjoying the grounds and neither of us are really "art people". No reservations required; just show up and enjoy! We arrived at about 11:30am.

Cost: $15 each (1500 yen), $7 for children
Difficulty Level: easy
Time spent: 2 hours
See it on Google Maps
Hakone Ropeway, Volcanic Eggs, and Ice Cream
Our next stop ended up being my favorite part of the trip: Kuro Tamago ("black eggs") of Owakudani Valley. You could just drive up the mountain and eat the eggs. But it's so much more fun to take the Hakone ropeway up and over the volcanic sulphur vents, created 3,000 years ago when Mt. Hakone erupted. At the top, exit the gift shop/cafe and you'll see several shops selling bags of fresh hard-boiled eggs…that are all pitch black. You can only find them in the three shops here at Owakudani, where they are boiled fresh right there in the volcanic hot spring. They taste just like any other chicken egg; the color comes from the volcanic properties of the water. Don't forget to add salt, it's good! Legend has it that each egg you eat adds 7 years to your life. (Keith ate three so looks like I'll be dealing with him for a while longer.) Bonus: black ice cream! Tastes like oreos, so no big sacrifice there.
Cost: About $15 each (1500 yen) for the ropeway and $5 for the eggs
Difficulty Level: Easy
Time Spent: 1 hour
See it on Google Maps
Ancient Tea House
A short drive from the Hakone ropeway is a 400-year old tea house called Amazake-Chaya. True to its namesake, they have phenomenal Amazake, which is my fav drink in Japan. Their blend is more savory than sweet and the absolute perfect drink for a chilly day. It's filling, too, so it was the perfect stop to hold us over until dinner. The tea house has been reconstructed and shored up a few times throughout history as it weathers earthquakes and storms, but true to its original form it still has a dirt floor, kerosene heat, and even a thatched roof. On a cold day, try to sit at the Kotatsu table that it is out front to the left, but semi-indoors. It's got a cozy heater underneath covered by a blanket for your lap! Just across the street and down the road is a somewhat hidden historical remnant: a section of the Old Tokaido Road; a cobblestone road once used by the Samurai. This ancient road connected major cities throughout Japan, but it was still a tiring and treacherous journey, so having nutritious Amazake stops along the way (in any kind of weather!) was important.
Cost: Amazake is $4 (400 yen) and absolutely worth it. Their brew is non-alcoholic.
Difficulty Level: Easy. The menu is small and there is an English copy! Simply ask, "Eigo?", for "English?", or say "Nihon ga wa wakarimasen", meaning "I don't understand Japanese".
Time Spent: 15-20 minutes
See it on Google Maps
See the menu and website
Hakone Shrine and the Red Peace Gate
Below, the Hakone shrine sits nestled in a tall, deep forest. Although it's somewhat hidden from view, you can see a massive torii gate known as the Red Gate of Peace signaling its location from all the way across Lake Ashi. Legend has it that a 9 headed dragon lives at the bottom of the lake, and you will see that theme echoed in the shrine. There is an ethereal vibe as soon as you walk under its first red torii gate. It also has the most impressive Foo dog statues guarding many of the buildings; nice and mossy, they look especially ferocious shrouded in mist. One of them is bulging with wishing coins as he stands with one paw balanced on a globe representing Earth.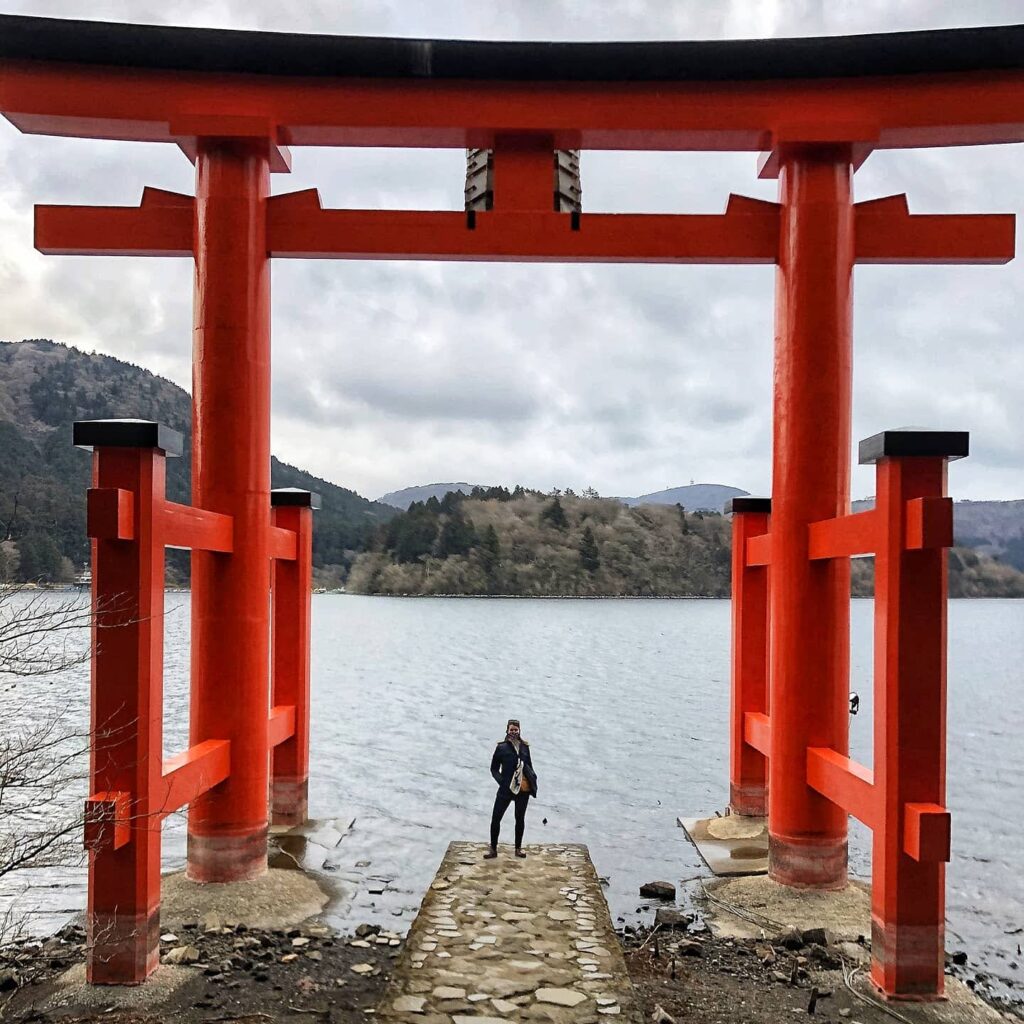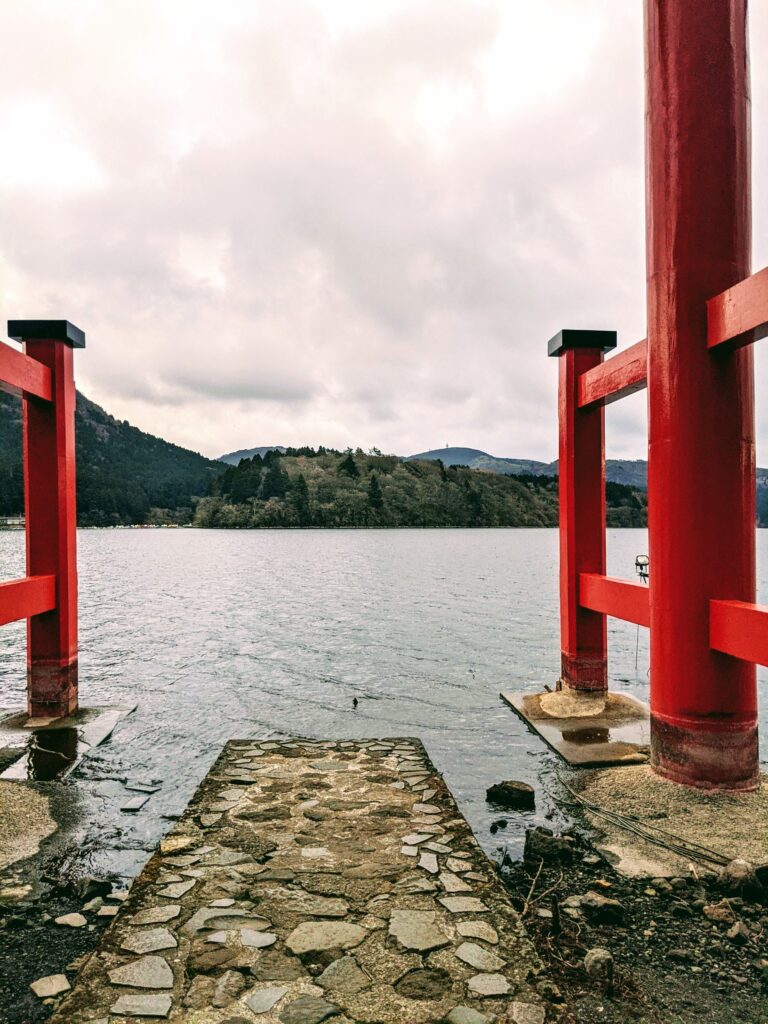 This shrine dates back to the year 757 and is a popular spot to stop and pray for a safe trip. Do it the Japanese way: bow once at the torii gate that marks the entrance to the shrine. This also marks the boundary between the ordinary world and the world of the Kami, the deity who lives at the shrine. Make your way to the water basin or fountain, usually in front of the shrine to the left or right. Use one of the ladles there to scoop water from the basin and wash your left hand, then right hand, by pouring water lightly over them. You can also pour some water in your left hand and rinse your mouth out with it (but some shrines have removed ladles or altered these cleansing rituals during covid). Replace the ladle and make your way to the shrine at your own pace. Throw your offering (any coin will do) into the offering box, bow, then clap twice, and bow again. Submit your prayer to the Kami, and be at peace! Although this is a deeply ingrained ritual, lots of people do it slightly differently, so don't worry too much about getting it exactly right. As with most Japanese shrines, admiring them is completely free. After a while a lot of shrines start looking the same, but this is one that I would definitely advise paying a special visit for. It's right up there with the Inari Temple in Kyoto in terms of beauty and uniqueness.
Cost: Free
Difficulty Level: Easy
Time Spent: 30 minutes
See it on Google Maps
We were quickly losing daylight by the end of the Hakone Shrine (around 5pm), so back to the hotel for dinner and a dip in the hotel onsen we went! Check out this post for onsen etiquette…yes, you're usually naked! If you visit in the morning or early afternoon, you could use your extra daylight to get some great shots of Fuji and the Red Peace Gate from across the lake or nearby roads, which we did the next day from this location and this location: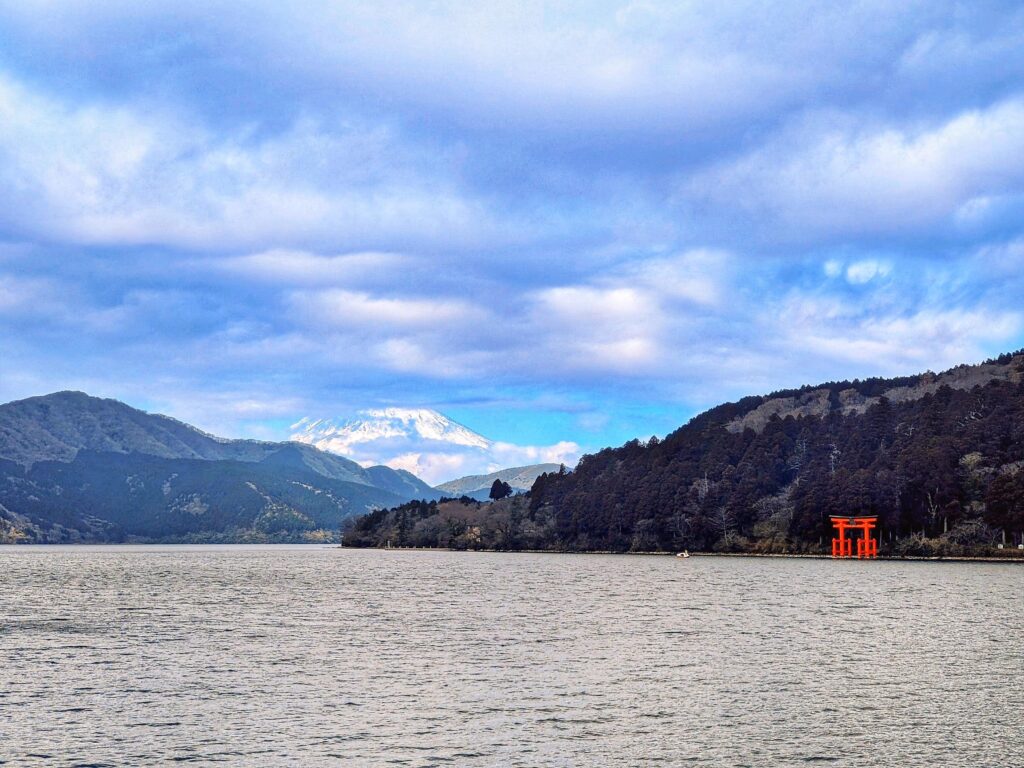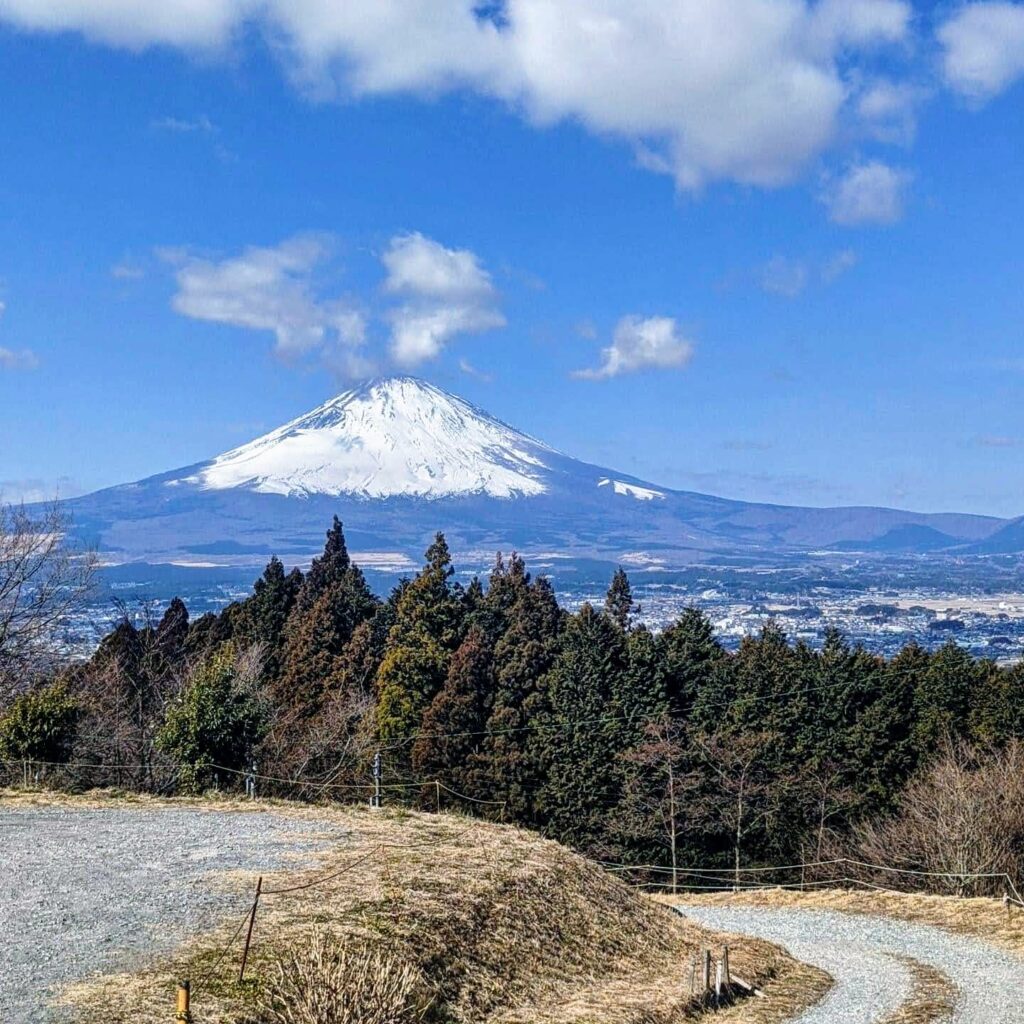 Surprise Earthquake
A hefty earthquake hit late in the evening. Ominously close to the 10 year anniversary of the monster tsunami in 2011, this one caused about a million homes to lose power, with a 7.3 magnitude epicenter a few hours away in Fukushima. We were on the 11th floor of the Hilton Odawara, so it felt a lot like trying stand on a tilty water bed while the building swayed back and forth, but we didn't lose power and nothing broke.
Odawara Castle
In the morning we were still alive…so we headed to Odawara Castle. I've already seen a few castles in Japan (the best one so far is Osaka's!), so the real draw for this one was the Ninja museum attached to it. Unfortunately, covid struck again. No Ninjas for us. We did walk around and enjoy the first blooms of spring though.
With Odawara Castle cancelled, we decided to hit the Gotemba outlets for some shopping instead. This outlet mall is right in front of Mt. Fuji, so there were some epic views and a lot of high end shopping, but I wouldn't go back. Too far out of the way with mostly high end brand names for me. I also skipped Gora park without too much FOMO.
Sake Tasting
We reluctantly headed towards home in the afternoon….but not before checking Google for some breweries on the way back! One was closed….two were open!! There's no better way to end a day with tired feet than sampling cheap and delicious sake. We bought a bottle from an exceedingly friendly shop owner who said he didn't speak English well, but then had better English than we did! No surprise there, the Japanese are pretty humble. We know next to nothing about Sake but we're learning. We know we like the sake that tastes "buttery" to us. He laughed so hard that his glasses fogged up and suggested that we might be talking about "Umami" before recommending a particular bottle. So we'll see if it tastes buttery! (Buttery should definitely be the word, it just makes sense.)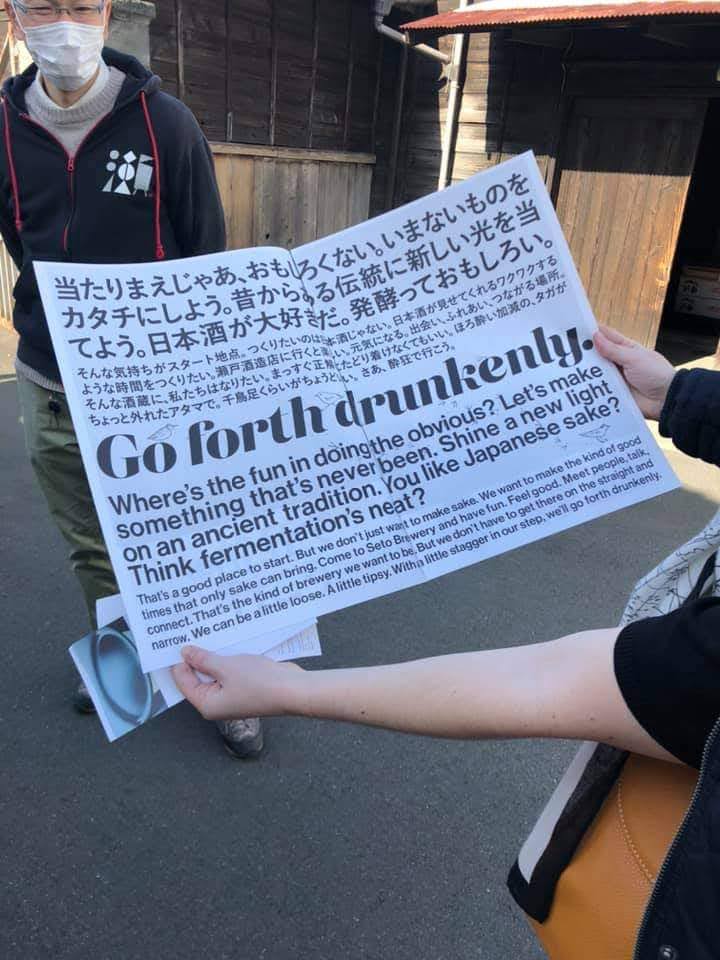 Other things to do in Hakone that we might try next time:
Yunessan spa resort for a touristy twist on onsens
Staying in a nice Ryoken with private in-room onsen ($$$)
Hakone Checkpoint
Pampas Grass field
Detached Palace
Ceremony at the Amazake-Chaya tea house in December
Day trip to see the Shira Ito (white threads) waterfalls
Day trip to Atami "adult" museum and beaches
2021 edit: we've gone back, combined with Atami Bay Fireworks and Shira-Ito Falls day trips! Recommend lunch at the Table & Bakery!