My favorite afternoons in Japan are spent lounging at a sake brewery after a hike. There are three local breweries near Yokota (that we know of!): Sawanoi – Ozawa (often just called Sawanoi or Ozawa for short), Ishikawa, and Tamura. Sawanoi has the best sake, imo, Ishikawa has the best food, and we can't wait to test out Tamura.
They all offer tours, however true to our experience in Japan, their websites will have broken links or incorrect schedules and when you call to make a reservation they probably won't have an English speaker on hand. However, you can call and ask for someone to call you back, or you can email them in English and someone will get back to you. It seems like most of the tours are restricted during covid, so I'll be testing that out in several months…ish…fingers crossed.
#1: Sawanoi – Ozawa Sake Brewery:
Located in Ome with cheap and delicious sake tasting right on the river! See it on Google Maps. This family-run brewery has been using pure mountain spring water to make their sake for more than 300 years.
Getting there: This is a super easy visit in terms of logistics, language, bathrooms, & parking. There are two free parking lots: one immediately at the entrance and another lot down the street at the stoplight. There are large signs designating them, but they are in Japanese. You can also take the train. Transfer at Ome station, end 6 stops later at the Sawai station, and walk a very short distance to the brewery.
Tasting: There is an indoor tasting room and a wide riverside patio with scattered tables and chairs. No heaters outside, so if it's chilly, bring a blanket and cozy up. There are two ways to taste sake: by purchasing them individually inside from the list of around 10 varieties, or by purchasing a sampler from the vending machine outside. Feel free to try both and to sit either inside or outside with your choice! If you choose from the list of 10 sakes purchased inside, one cup is around about 200 yen ($2) and you can keep your cup as a souvenir. The crab symbol on your cup is the symbol of the Sawanoi – Ozawa Brewery. Once you know it, you'll start seeing it everywhere. For the vending machine sampler you will receive 3 plastic cups of different sakes at once. The button for this on the machine has a picture of three green bottles on it and comes with a small bowl of charcuterie meat or other snacks.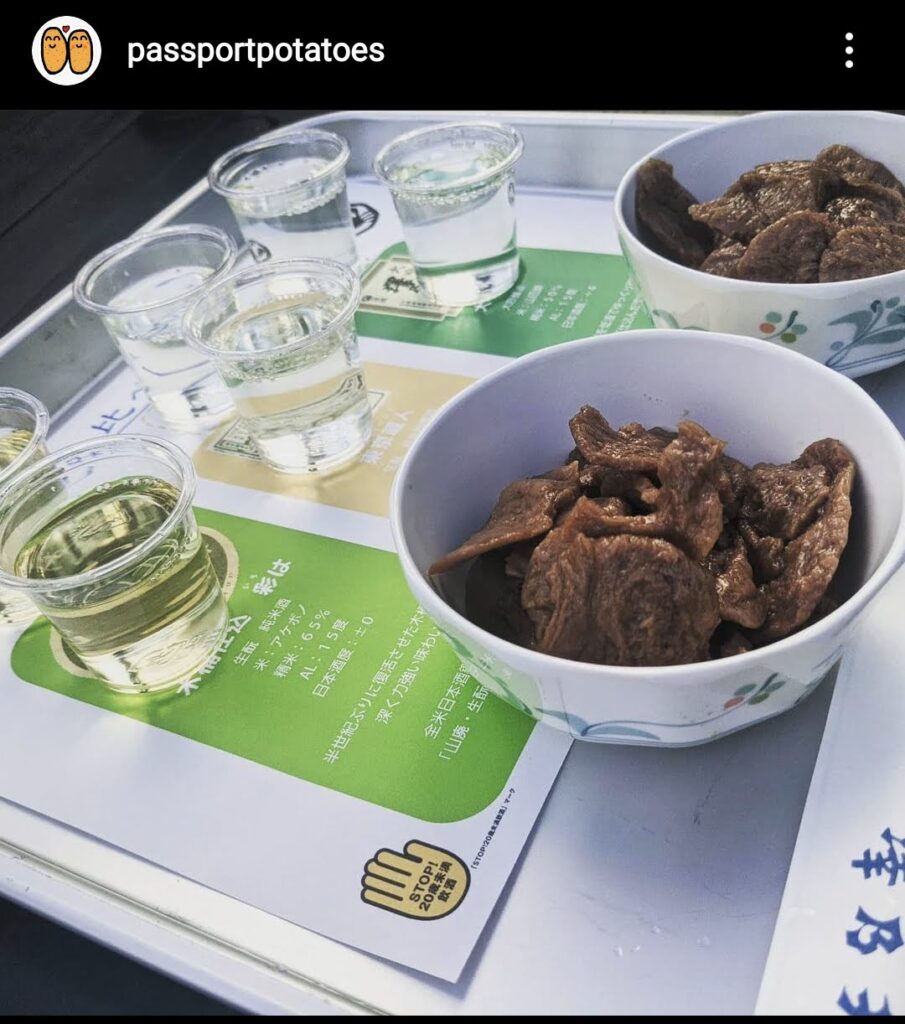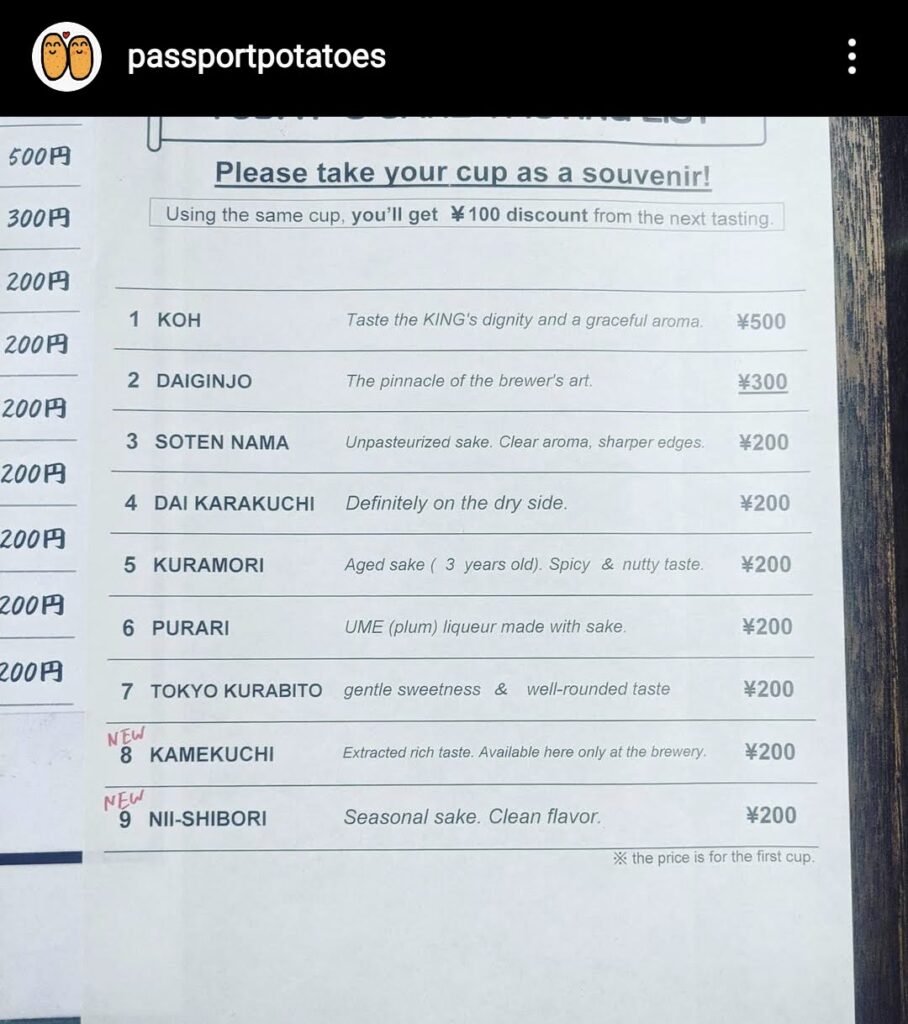 My favorite drink is actually not sake at all, but Amazake, which you can also get from the vending machine. I could compare it to hot Horchata, or maybe a hot creamy tapioca drink. THE BEST for a chilly day. It's made of fermented rice lees that are discarded during the sake brewing process (so you can almost always find some good Amazake at a sake brewery). It's known as the hangover cure in Japan and touted to be good for your gut, skin, circulation, yadda yadda…I just like it because it tastes amazing. The sake lees are sold in Sawanoi's gift shop so you can make your own at home (super easy!).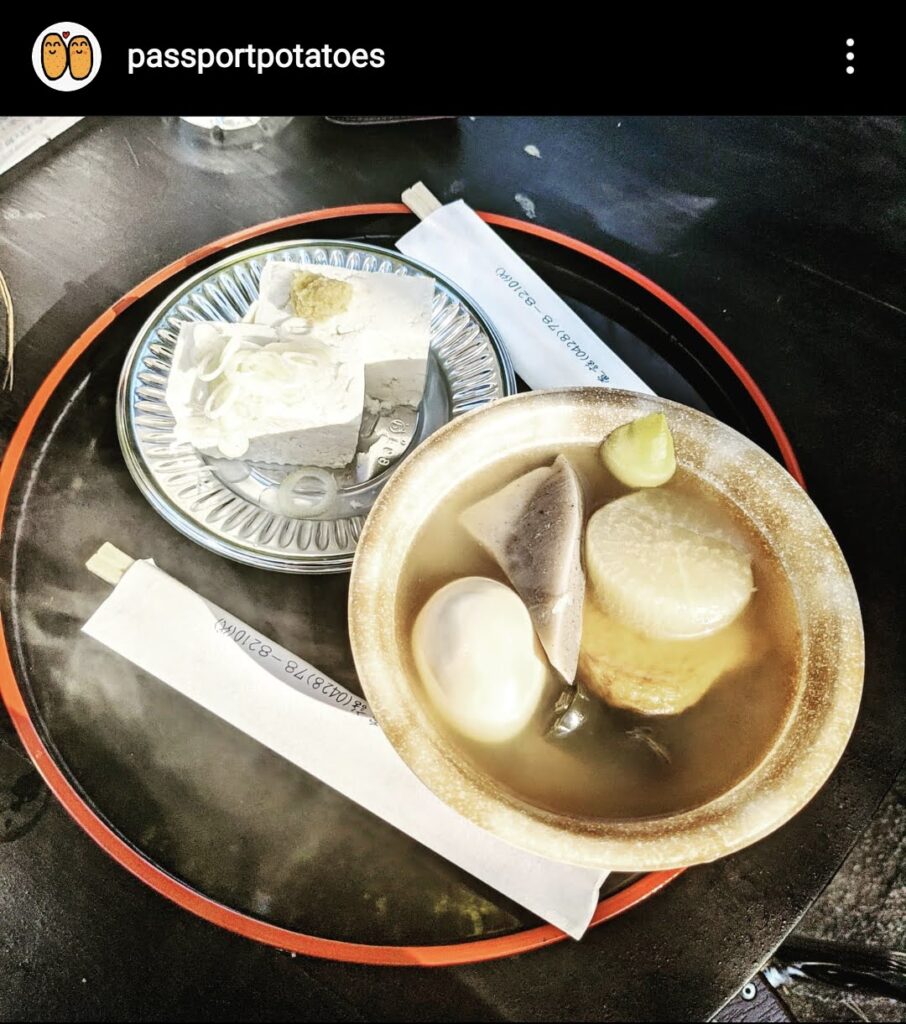 The vending machine process is tricky unless you watch someone do it first. Put your money in, hit the button you want, and take the ticket it dispenses. Choices are fairly limited, usually tofu, odin, noodles, and pickled stuff. Then go to the middle food-stand directly across from the vending machine (the stand to the right is the sake gift shop). Hand them your ticket and wait to the left of the line. They will bring your order out on a tray shortly. Return your tray when you're done!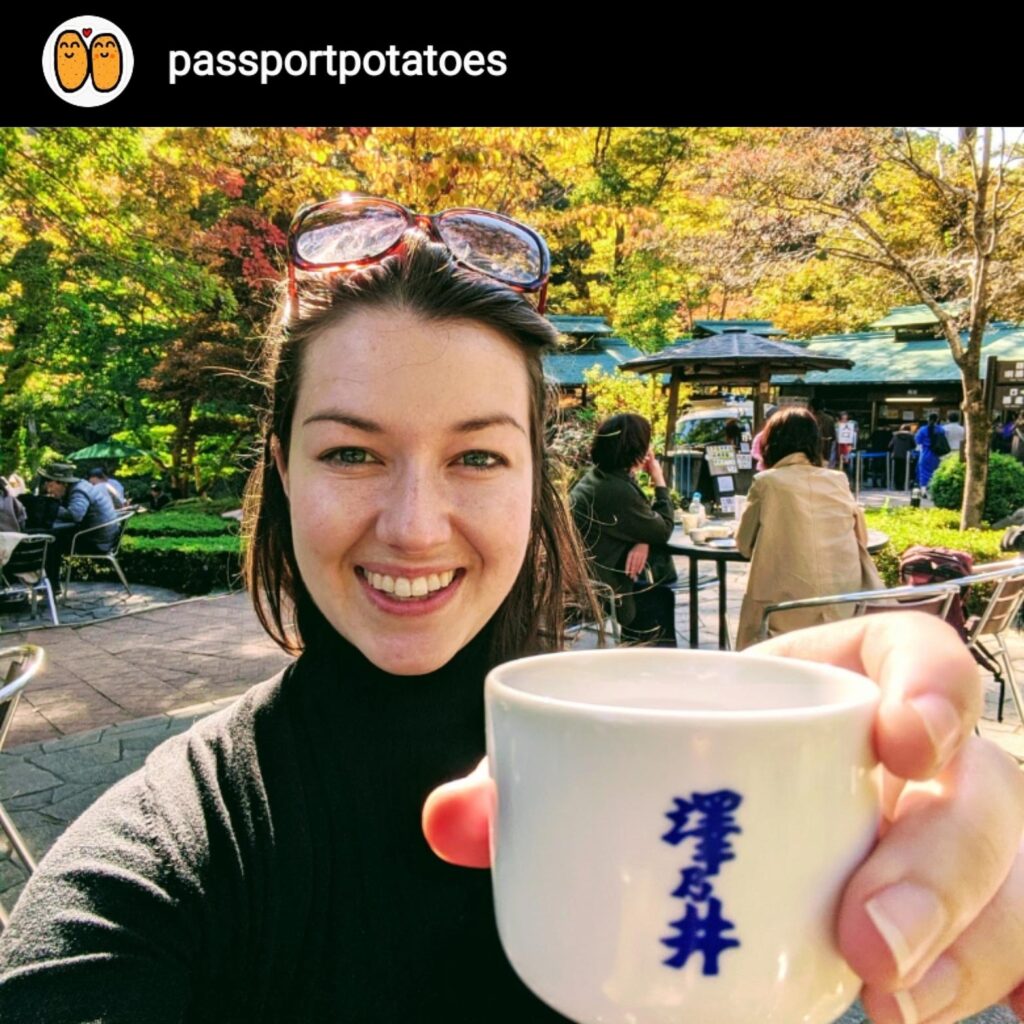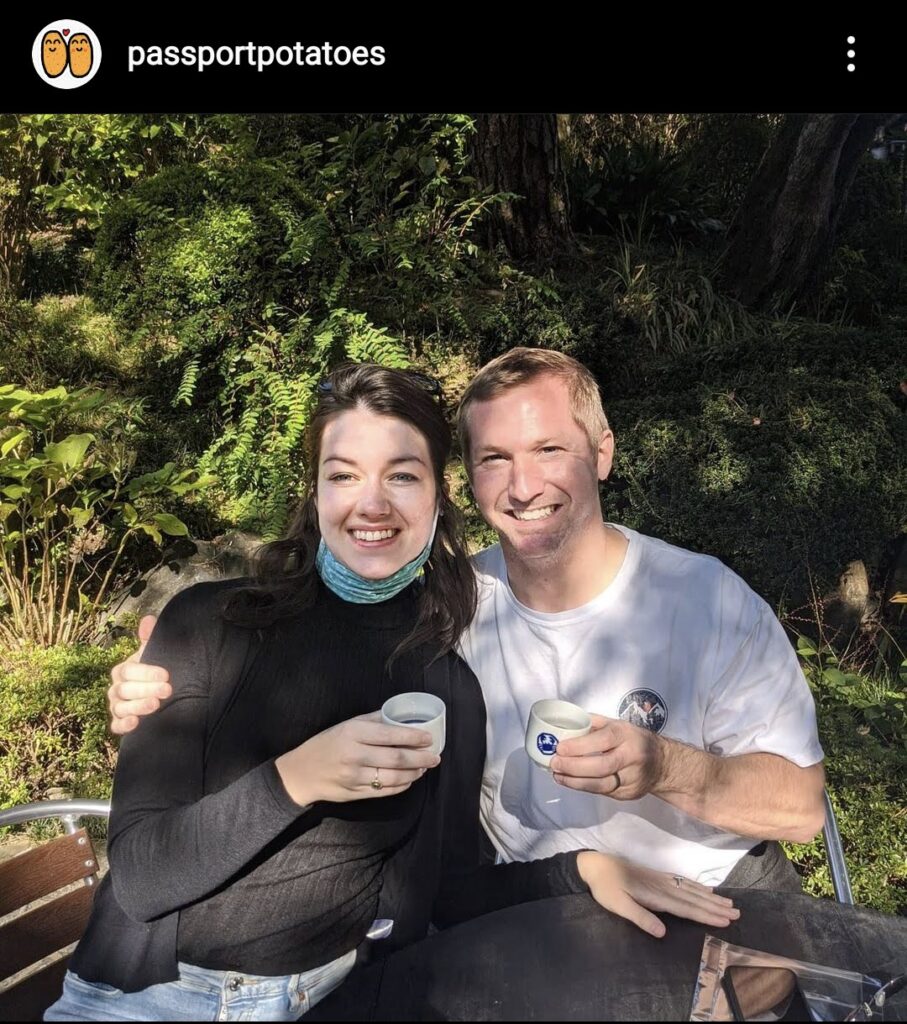 Stuff Nearby: Maybe you'd like to spend a whole day in the area and are wondering what else there is to do? You're in luck. There is a set of stairs from the brewery patio that leads right down to a walking trail following along the river. There's also a bridge across the river that leads to a fascinating little temple with a giant bell (pictured below) as well as the Mitake Gorge Trail and Ome River Walk. The Mt. Mitake cable car is also within walking distance. You'll also find a restaurant and two museums nearby, though I have yet to visit them. The river is a pretty ugly river when it's low, (not pictured ;)). But when the water is high, you'd never know about the gravel rebar bottom.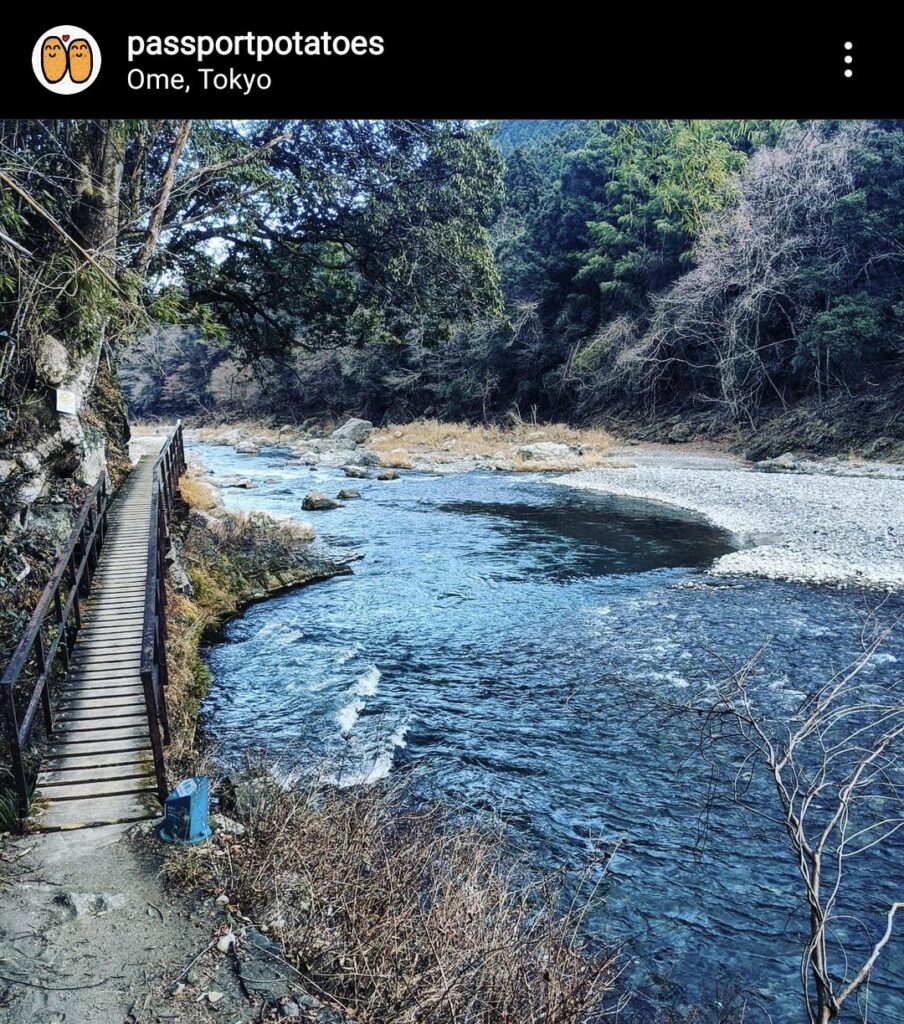 #2: Ishikawa: Sake, Beer, Bento Sushi, and….Italian food! It's all at Ishikawa.
See it on Google Maps.
Getting There: If you're up for a long walk, you could just stroll on over to Ishikawa Brewery from Yokota AFB. You could also take the train and get off at Haijima Station. Or you could drive and park right outside the entrance. The roads there are narrow, so go slow and be prepared to yield.
As you enter, the second or third building on your right is the sake cellar and gift shop, where you can buy bottles, cups, and other things. Just outside its entrance is a well, source of the mineral water used to make the sake, and twin 400-year old trees. Continue past them and you will pass a Japanese restaurant on your left. It has wonderful bento sushi, seafood, and you can order sake by the cup. Menu is all Japanese so be prepared with Google translate if you're illiterate like me. Even then, some of the names aren't very descriptive (i.e. "Ocean bowl")…just pick one; you'll probably like it! This was one of the first experiences in Japan that taught me the importance of a flexible mindset. If you allow yourself to get frustrated every time your order the wrong thing, pick the wrong day, or go in the wrong entrance, it won't be fun anymore. When I learned to just roll with it I had a much nicer time.
Continue walking past the first restaurant and you'll see a massive cauldron to your right. That's where beer was brewed in the 1800s for one of Japan's first brewing companies: Nippon Beer.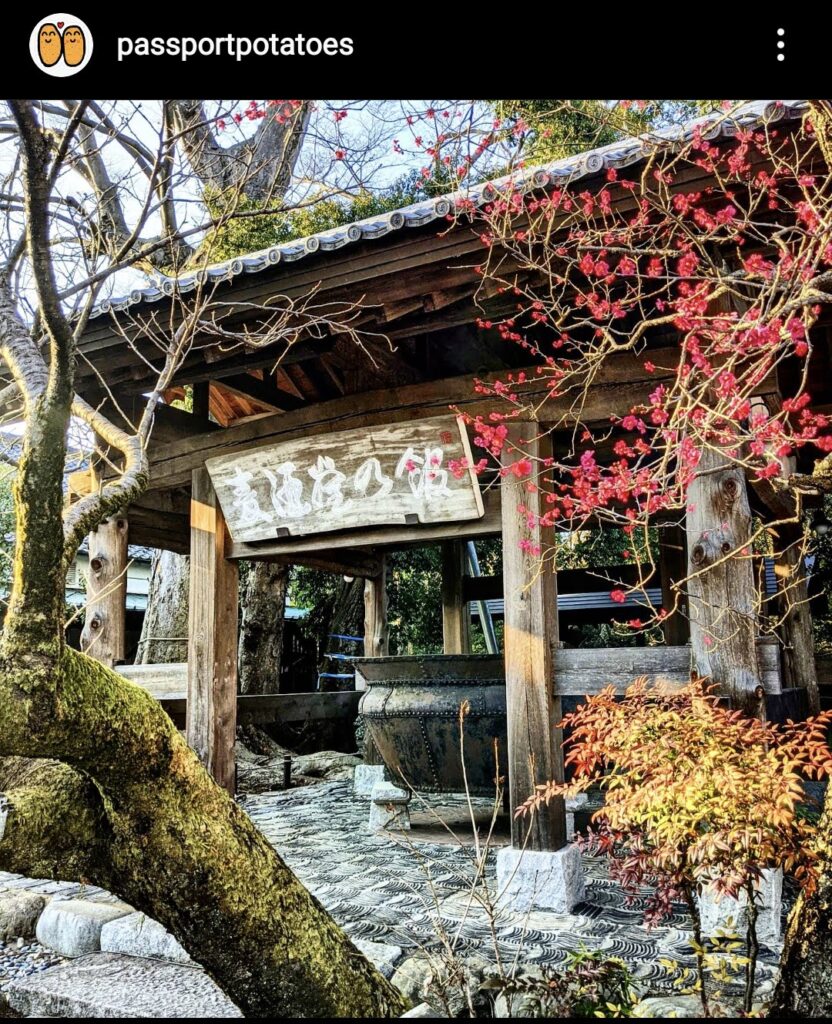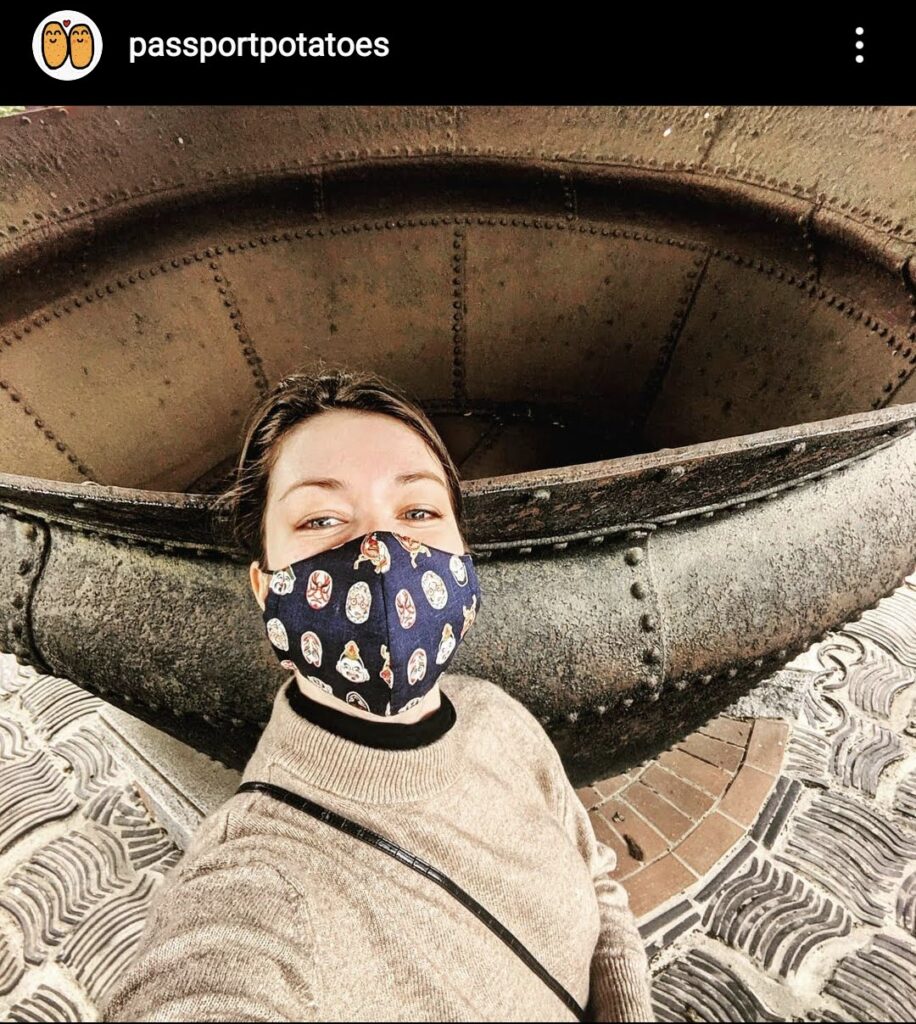 Directly across from the cauldron to the left is the Italian restaurant with a beautiful open-air patio. Some of the dishes were not what I expected with a more Japanes twist, but it was still good. I loved my pork appetizer with sake lee sauce and nuts, and the sake ice cream is a very subtle, light flavor almost like vanilla. The broccolini pasta dish was pretty bleh and basic, but I would go back to try other entrees in a heartbeat for the nice atmosphere. Bonus: I saw heaters, so I'd love to go back on a chilly day!
Tamura Brewery: Coming Soon!