What an escape – can't recommend enough! Find our itinerary, lessons learned, and what we'd do next time below. (in process, more photos, recipes, and travel tips coming this week.)
Our itinerary:
These four cities give you totally different glimpses into Thailand: Phuket is stunning ocean, rock formations, and beach life; Bangkok is a modern city with skyscrapers jutting between golden Buddhas and ancient temples; Ayyuthaya is filled with instagrammable ruins, and Chiang Mai is a laid-back foodie and backpacker paradise. Absolute must-do's was the Phuket island boating tour, roaming the ruins of Ayyuthaya, and seeing temples by longboat on the Chao Phraya river in Bangkok. The elephants were great too, but enjoyment will depend a lot on your personal preference; more deets on that below.
Day 1-3 Bangkok: (click for play-by-play IG story)
  –   Boat ride in a traditional longtail boat down the Chao Phraya river. These are the long colorful wooden boats covered in bright flowers and ribbons. They'll take you from temple to temple via river, much nicer than going by car or tuk tuk! You can buy coffee/snacks (maybe even noodles too!) from some little sales boats on the way, and see giant Monitor Lizards on the banks. You can hail a longboat from any major pier, so I recommend simply visiting one of the major historical sites already on your list and head to the closest pier to that to start your journey. You could also book one via a tour online. Though prices online will likely be fixed and higher than in person, you won't have to deal with any haggling.
– Bangkok landmarks to see: Wat Arun, Wat Rakhong, Wat Intrawihan, Grand Palace, Emerald Palace. Some might be underwhelming if you've seen a lot in other Buddhist or Shinto countries like Japan, but some of them are huge surprises inside too. (P.S. "Wat" means temple). It's a lovely time to temple hop via longboat sipping canned coffee.
    – Get a tuk tuk ride (hail one at any busy street corner or tourist site) between any destinations not on the river and try some street food like Thipsamai, a Michelin-starred casual stop for pad thai. If you don't already know, pad thai in Thailand always comes with shrimp or prawn. Maybe one or two big juicy ones but mostly tiny dried shrimpies with very good flavor. Only foreigners get chicken and it's often not on the menu as an option. I personally don't like shrimp because they are cockroaches of the sea with gross little legs but these dried shrimp were quite good! Live a little and try it. Thipsamai is also famed for their orange juice but I preferred the icy coconut drink, it's also must-try! We didn't book in advance enough to sit inside but ordered to go at the window and ate at a park down the street. Recommend trying weird fruits that you see at markets as well!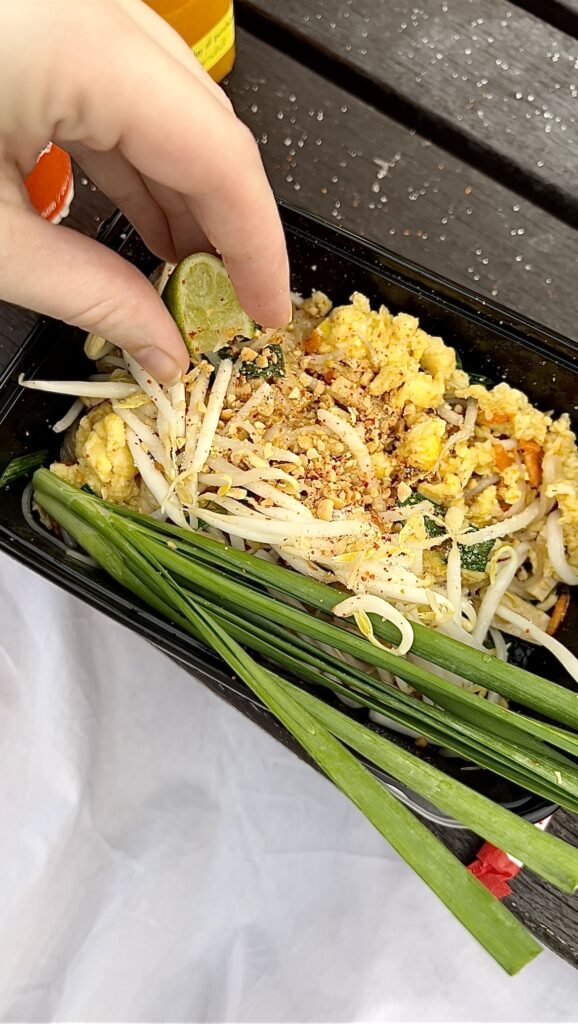 – Stroll Chinatown, esp at night, for nightlife and street food. You might see scorpion kebabs. The food here wasn't as good as elsewhere but the atmosphere made up for it.
– Plenty of options for city shopping like Siam Paragon. Some of the malls are tourist destinations themselves, with indoor canals and fine dining. Opposite spectrum is Chatuchuk market for cheap deals and thrifting, but it was pretty meh for us. Like a big outdoor walmart, half closed down. Could have been a covid thing.
Accommodations: Millennium Hilton Bangkok. Stay for the all-you-can-eat Sunday Brunch. Hint: suckling pig, chocolate covered figs, fresh bread, aged cheese, pineapple fried rice, pan seared foie gras…need I go on.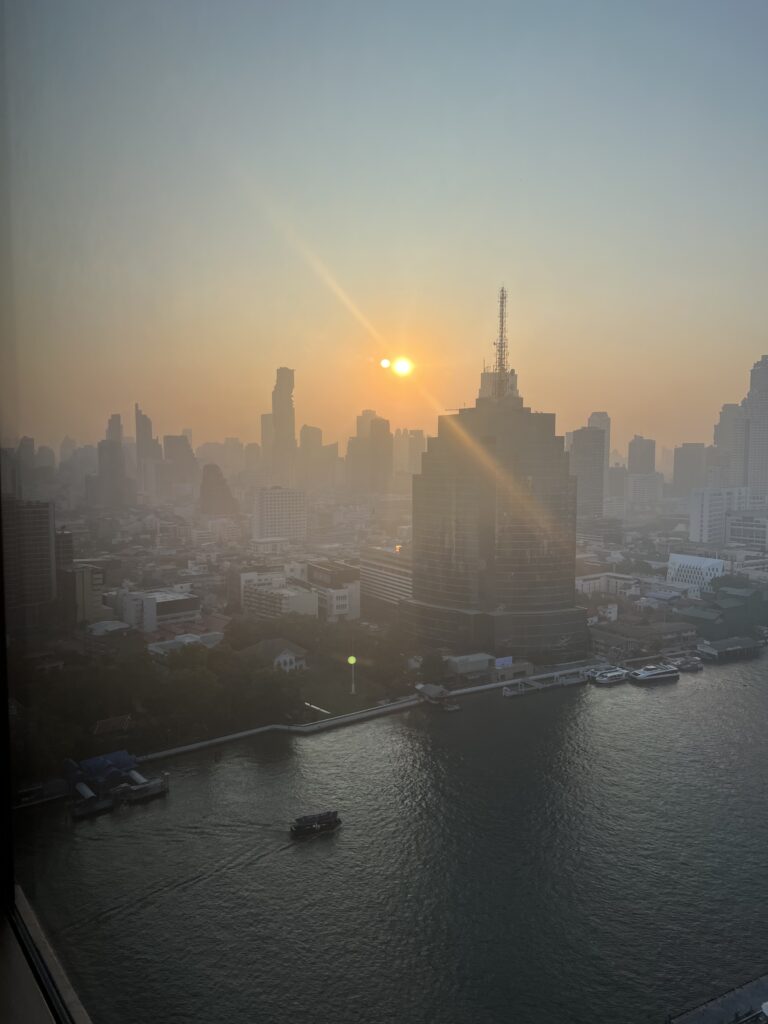 Day 4: Ayyutthaya Day Trip
     There is a river cruise from Bangkok to Ayyutthaya but it was cancelled for covid, so we had our hotel hire a taxi for us. There are 5-6 major sites at Ayyuthaya and I believe you can walk/bike between them but it was so hot, even in December, we were really grateful for the taxi and its A/C. The entire day was around $70 total for 4 people and the history is fascinating. Apparently, A Burmese and Ayyutthayan princes had major beef and, after trading insults over a rooster fight, they faced off in single combat on elephant back and wiped each other's cities out. Legend is one was cut in half atop his elephant. We gathered all this by reading plaques and googling but I imagine a guided tour would be totally worth it if they are a good story-teller. It feels like the set of Indiana Jones or the Mummy and makes for fantastic photos. We also tried sweet roti for the first time at food stalls here. A day well spent!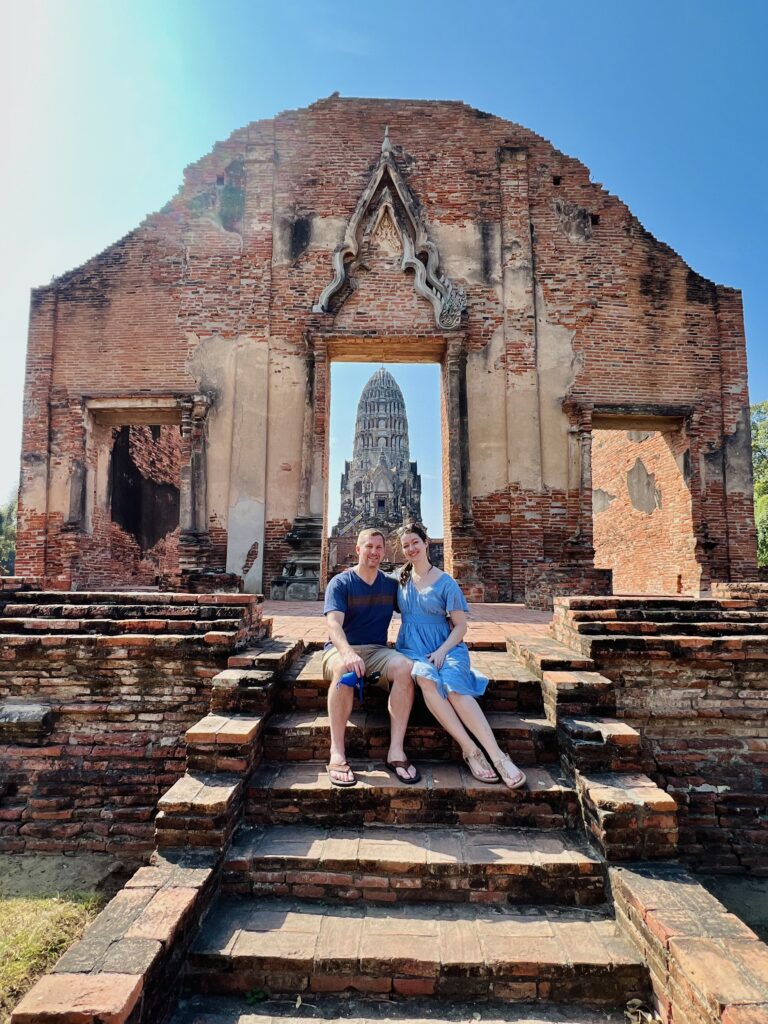 Day 5: Bangkok Cooking Class with Pink Chili Cooking – we made pad thai, mango sticky rice, red curry, and coconut soup, recipes coming soon!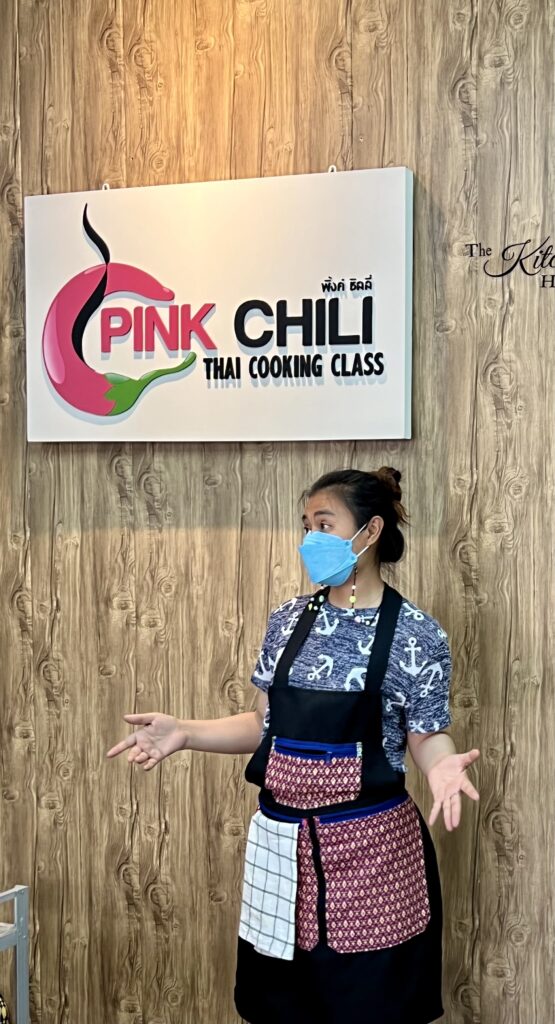 Day 6-8: Chiang Mai (click for play-by-play IG story)
Chiang Mai is a foodie paradise; here is where you stuff your face. We favored Bella Goose Cafe (coffee and breakfast), The Service 1921 (Khao Soi and cocktails), and Da Antonio (burrata pizza and salmon) the most. As for things to do, there aren't actually many activities. Most trips you'll see advertised are day trips that are 2-3 hours away, such as Chiang Rai. There are several temples in Chiang Mai but they are meh next to Bangkok's. You might be better served taking some time to chill out and sending your laundry away to Em's Laundry, who delivers them back to your hotel charging pennies for the kg. We spent our time eating, drinking, and getting massages. It's incredibly affordable. The city's vibe is hipster foodies congregating with ex-pats lounging like lizards in the sun, smiling locals, Khao Soi and the jungle. You could add the Elephant Nature Park, which comes highly recommended but it was closed for Covid when we went so our elephant fix was achieved in Phuket instead. If you don't want to take a slow-paced couple of days on your trip, and you're ok with including elephants in Phuket rather than Chiang Mai, you can probably skip this location.
Accommodations: Empress Premier hotel – 5 stars for this hotel!
Day 8 – 14: Phuket, Island hopping, & Elephants (click for play-by-play IG story)

Charter a boat (we used 5 Star Marine) and tour James Bond Island, Phi Phi, etc. We had lunch on a deserted island, caught a great sunset, and went home after about 8 hours of time on the water. You can customize the tour, and you should! There are a couple of stops I would remove and a couple I would stay longer at if I did it all over again. For example, I would completely skip kayaking. You aren't the one kayaking, someone else is hired to paddle you through a cave for about 15 minutes and they pester you for money the entire time in very uncomfortable ways. Skip. But the scenery is otherworldly and not to be missed – as if giant knuckles burst through the earth's crust. James Bond Island doesn't even look real. Though pricey (I remember something like $500-600), it was worth it, especially divided amongst a group. The boat is comfortable, the navigators are skilled, they take pictures for you, and it includes snorkeling, kayaking, beaches, etc. You can also order lunch and bring alcohol. Many people do these tours with the traditional long boats for half the price but they aren't comfortable and don't provide any cover for a full 8-9 hours of boating in the sun (and surprise rainstorms).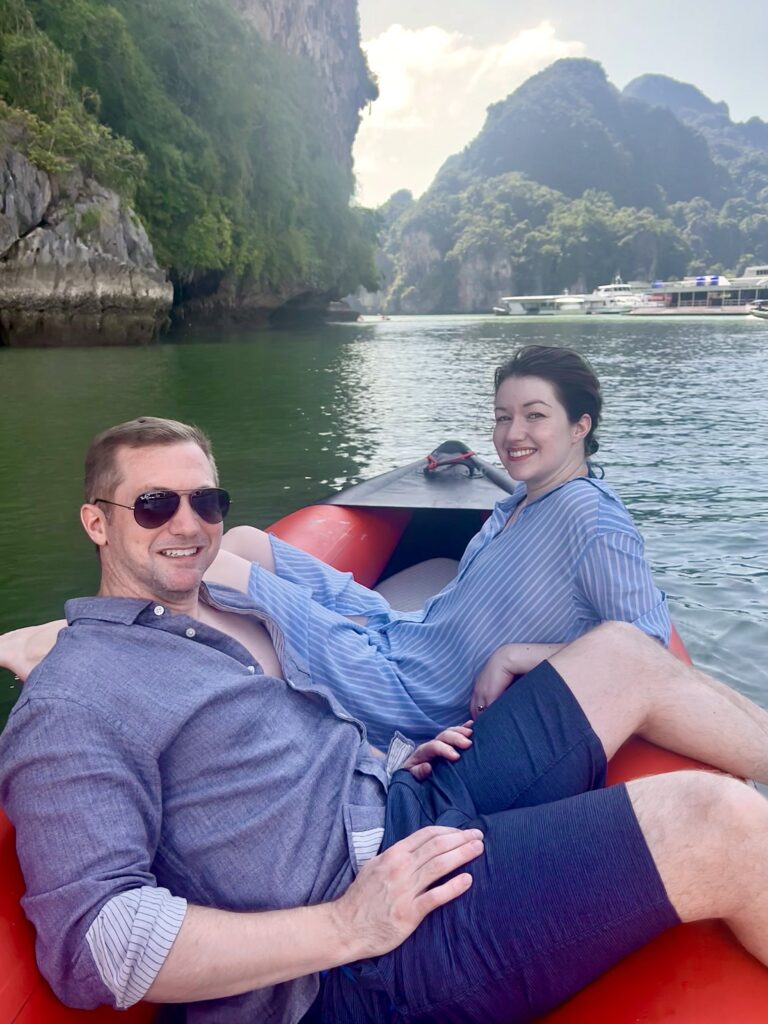 – We chose Elephant Retirement Park Phuket for an elephant experience. I believe is the exact same place as Green Elephant Sanctuary, they just use different websites to draw different crowds. I felt it was an ethical place where elephants were well cared for (though defining what ethical animal tourism is, and then verifying it, is a hot topic so others might not agree. They are misleading with titles like "sanctuary" or "animal shelter"). I saw no signs of chains, hooks, wounds, or any other abuse. They weren't dancing or doing any tricks. They don't allow riding and they were all well fed. The elephants were clearly bonded with their keepers and loved on them like dogs, particularly during lulls when no one was looking. However it appears all of the "sanctuaries" share/rent the elephants and just use different websites and locations. Only two out of eight or so were actually rescues; some were even friendly new babies. The rescues understandably needed special care and were not as involved in the hands on activities as the rest. One keeper said that elephants are like horses or cattle in Thailand; some do farmwork when they arent booked for tourism, and that's fine with me. Our elephant experience included giving a mud bath, preparing food and feeding, and walking around with them and getting beautiful photos. We did a half day and hung out with them for 3-4 hours straight which felt like plenty of time.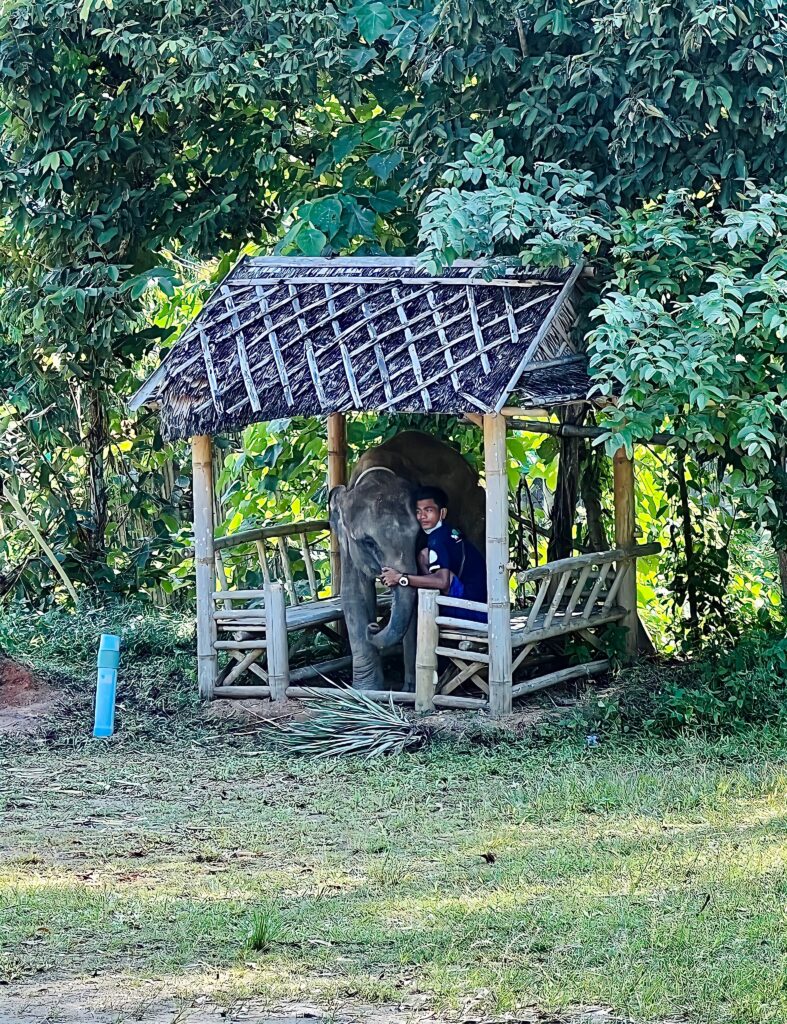 – On our other days we basically went to the beach, stuffed our faces, got massages, and snorkeled on repeat. There are options for bamboo rafting, ATVs, horseback rides, etc. The world really is your oyster in Thailand.
Home base location: Patong beach (mix of bar row night life and beach life). Our favorite breakfast stop here was Herne Coffee and Bistro. Eggs Benedict and Pina Coladas every day! Now, about the Patong night vibe. I don't know if this was the normal vibe or just the unique crowd attracted to one of the few affordable countries open during peak pandemic, but not shown is the sunburnt, mostly naked, waddling parents sharing ciggies and vodka with their teenagers. And the sugar daddies, oh my. Somehow the beach was still always pristinely clean. Each beach has a different crowd/vibe, so there are more family friendly options out there if that's what you need.
P.S. We spent New Year's on Patong beach and it had pros and cons. We're too old to enjoy going out and clubbing all night. Instead we lit those majestic sky lantern things, like Tangled right? Well it was windy, but they were selling them anyway, so they all just blew into palm trees or the ocean and nearly set half the beach alight. One of our attempts rolled like a flaming tumbleweed right past a guy drunkenly peeing into the ocean. Oh, and my dress caught on fire. Enjoy the insta vs reality video made possible by that cluster! (coming soon).
Pro Tips and Buyer-Bewares:
1 – One super convenient thing we learned was that you can schedule stuff last minute. It seemed like tour groups were always available, with stands on street corners and plenty of hookups at major hotels, so we could opt for snorkeling instead of 4 wheeling or alter a day trip with less than 24 hours notice. We scheduled what we could in advance but a lot of websites were down or email addresses not being monitored (a covid thing maybe?), plus it was more expensive to book online. The hotels handled most of the bookings for us when we arrived to each city. You could basically just hail a taxi or tuktuk and ask them to drive you wherever your wanted for the day too. It was extremely tourism friendly, but also scams were everywhere so I'd advise to know the going rate for things first.
2 – Don't eat street sushi or meat that's sitting outside if it's not fresh-cooked in front of you. Careful of street drinks that use ice, you don't know where that water came from.
3 – If someone stops you on your way to an attraction and tells you its closed for any reason it's probably a lie. Even if they have an official shirt on, even if they seem super knowledgeable, even if it *looks* closed, even if it's prayer time, they are lying so they can send you to one of their buddies' businesses instead. Granted, we fell for this once and had a great day as a result, but paid 4x the going rate for everything and found out later. You got us Mr. Chai, you got us good.
4 – In Bangkok and Phuket everyone will try to take you to a tailor to get a custom suits and dresses. It's not a terrible idea; the prices are way cheaper than in the states and the fabrics are equally as nice. But some places will pay tuktuk drivers to add them as a stop on your way home, ply you with drinks, try to separate you from your group, upsell you like mad, and if its not done in time they'll promise to finish the clothing and never send it or send it without finishing (speaking from personal experience!). Avoid a chain called RAM fashion. I have a friend who uses a place called Rajawangse and recommends them. Otherwise google reviews are your friend.