UGH IT'S SO PRETTY.
That about sums the whole area up. Japan is still in on-again off-again covid lockdowns, so our trip to Nagasaki and Hiroshima was cancelled last minute. We tried to make the best of it by enjoying outdoor activities nearby instead and it turned in to one of my favorite weekends in Japan. Mount Fuji (aka Fuji-san, to be respectful!), is surrounded by five beautiful lakes, tons of lush forests, and plenty of waterfalls. We hit every checkbox for a great weekend: good friends, nice weather, sake, ice cream, and half-baked adventure plans.
Stop 1: (this is critical, you must not skip): wine ice cream. A small ice cream shop on the side of the road underneath Restaurant Kosenso sells purple wine ice cream, which tastes like grapes, and is a perfect way to start your weekend. You could also order pickled cucumber and radish on rice but uh…we chose ice cream. We ate it across the street with a view of the lake and Fuji-san in the distance.
Stop 2: Chase Fuji-san around the lake (Lake Motosu in our case, but they all have great views). This view in particular is the same one on the 1000 yen bill! Here is one of the many viewpoints on Google Maps. Next visit I hope to include some kayaking or stand up paddle boarding on this gorgeous lake.
Stop 3: Saiko Iyashi-no-Sato Nenba ("Saiko Healing Village"). This little village is a recreation of the village that was destroyed in a landslide in the 1960s. It's a nice place to spend an hour strolling between traditional thatched-roof homes where local artists display hand-made goods like paper and pottery with an amazing view of Fuji. Keith bought me a little Daruma painting because I love Daruma so much. It was supposed to be a secret but I saw it straight away. You can also try on traditional clothing and samurai outfits (when covid isn't in full swing). You might see a farmers market with local honey and other treats in the parking area too. See it on Google Maps.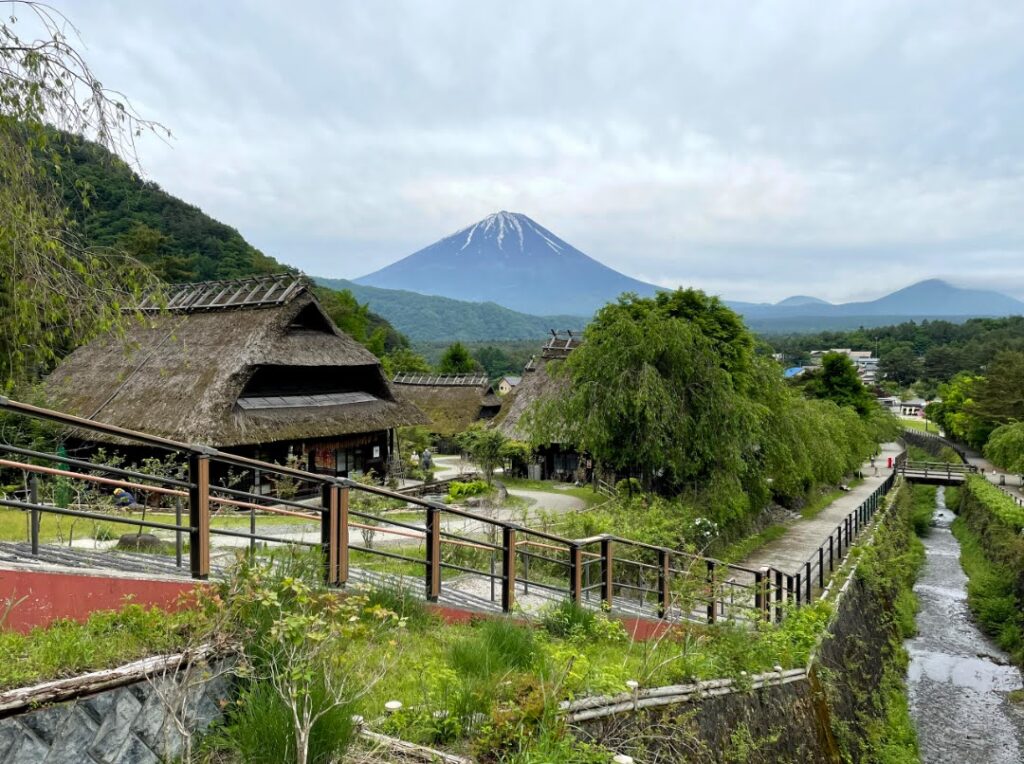 Stop 4: The Suicide Forest (true name: Aokigahara). The internet will try and tell you this forest is ridiculously spooky and haunted. It's not. Or at least the ghosts left us alone… There was plenty of birdsong, light, and we even saw a school trip to the ice caves located along the forest path. Nothing like the dark vacuous description you'll read elsewhere. The forest floor looks like soil at first, but it's solid volcanic rock, which I thought was so cool. Still…don't go at night or wander off the trail. It's easy to get lost and they say there is a chance of finding someone who has taken their life deeper in the forest (the numbers are no longer published so as to not encourage the tragic phenomenon, but the highest last reported annual count was 108 bodies in 2004.) Aokigahara has been associated with suicide since the 60's; there's even a sign posted at the trail entrances with a number to call for help, specifically for debt relief. It may have been associated with the practice of Ubasute since ancient times, a practice of leaving the elderly or infirm somewhere remote to die, but it's not clear if this is a myth or not. We intended a short hike but the men insisted we were already more than half way through so it would be quicker to keep going than to turn around. I will admit that around the 2 hour mark I was wondering if the forest somehow sucked us in…but 3 hours later we emerged unscathed. *sigh of relief*. Except for the blisters. I discovered why dads love socks and sandals together after that. Foot bliss.
We did find this one really strange bark-less tree in the middle. I feel like I've seen something on a documentary about this tree before but can't find it now. No one knows why it's twisting. Below you'll see me reverently and curiously approaching because ghosts and all, and then you have Mr. Show Tunes. So if we do get haunted you know whose fault it is.
Stop 5: Dinner for the weary travelers – Okonomiyaki at Teppanyaki Zoo. This is a fun dish. Not an all-time favorite, but it was different and still enjoyed it.
Stop 6: Kawaguchiko Hotel for a game of cards and some well earned rest.
Stop 7: Totally un-planned, this one, but when you realize you might have just seen a giant stone Buddha penis on the side of the road you turn around to investigate. This dude is apparently just a garden statue for sale, but he's so popular from people pulling a u turn that an offering plate has been put at his feet and is collecting coins. He's located at 35.4796525, 138.6962931 in Yamanashi in case you wanted to swing by. It's probably serving as a fertility shrine at this point. The Japanese are not shy about this, there is an entire festival dedicated to the respective body parts in April.
Stop 8: Ok, we're back on track now, I swear. On to Shira-Ito and Otodome Falls. Shira-Ito translates to "white threads". Again, I have to say, UGH ITS SO PRETTY. Just a postcard everywhere you look. This is definitely a spot we would take visitors. Not only is the nature gorgeous but it's easily accessible (a lot of stairs, but all paved, no deep hiking to the middle of nowhere) with tasty coffee shops and souvenir stands all around it. As is common at any beautiful nature spot in Japan, we did see several unhappy cats and dogs in bonnets and strollers posing for family photos. I recommend visiting in any season except midsummer (late June – early September), when it gets extremely humid and buggy.
Stop 9: Lunch and libation time. We had some delicious affogatos and cappuccinos at Mifujiya coffee right at the top of one of the falls. Then a stop at a winery and Fujimasa Sake Brewery brewery at Asagiri food park, where a variety of restaurants share an outdoor viewing area of Mt. Fuji. I'm not a fan of Japan's wine but a huge fan of the sake. We tried samples of Shoju (sweet potato liquor), and Yuzushu (Japan's version of Lemoncello! Not half bad!), bought some pretty sake cups, and I even got a rice lees toner spray because ooh luxurious. How often do you get to buy skin care made from Mt Fuji rice water? Then we dragged our butts back to the hotel for an afternoon nap and onsen time. Check out the view. Click here for onsen etiquette (and prepare to get naked with strangers, it's not like the States).
Last but not least, our final stop: The famous Chureito Pagoda view. (Chureito sounds like Shira-Ito to me, but I have no idea if that's just coincidence). Just about every travel blog has this one so we decided why not. And sure enough the clouds moved over just as we got to the top, like it was waiting for us.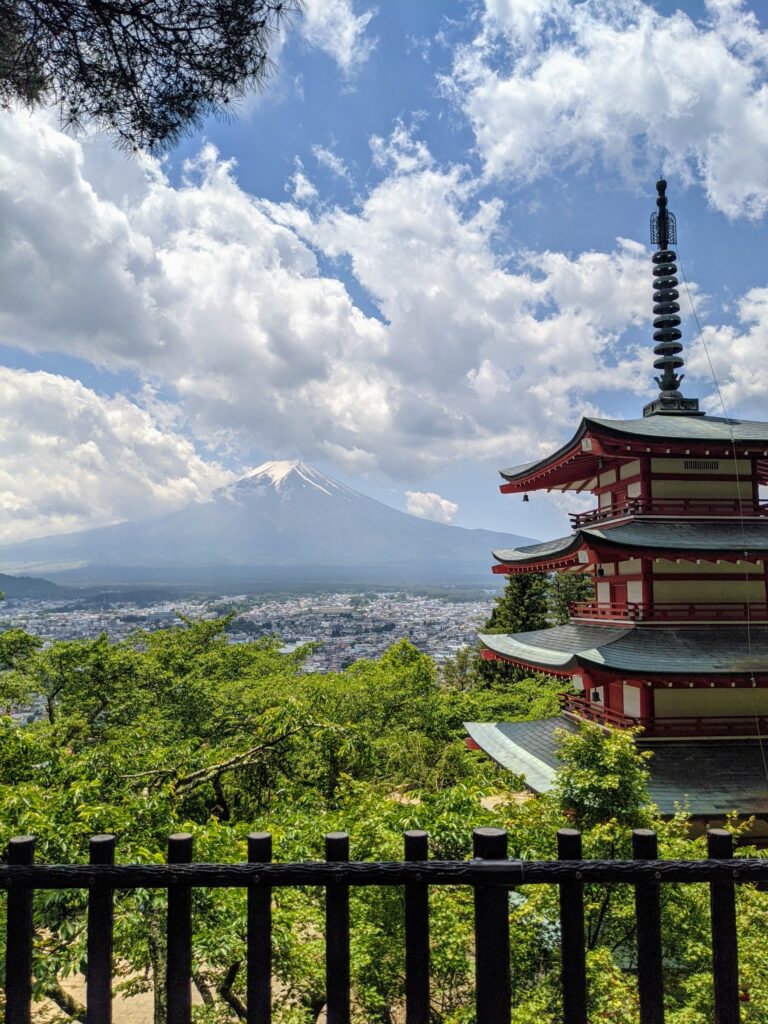 Trip rating: 10/10 spuds for sure and we are definitely going back! We don't usually buy many physical souvenirs, but we had such a good time this trip that we kind of loaded up.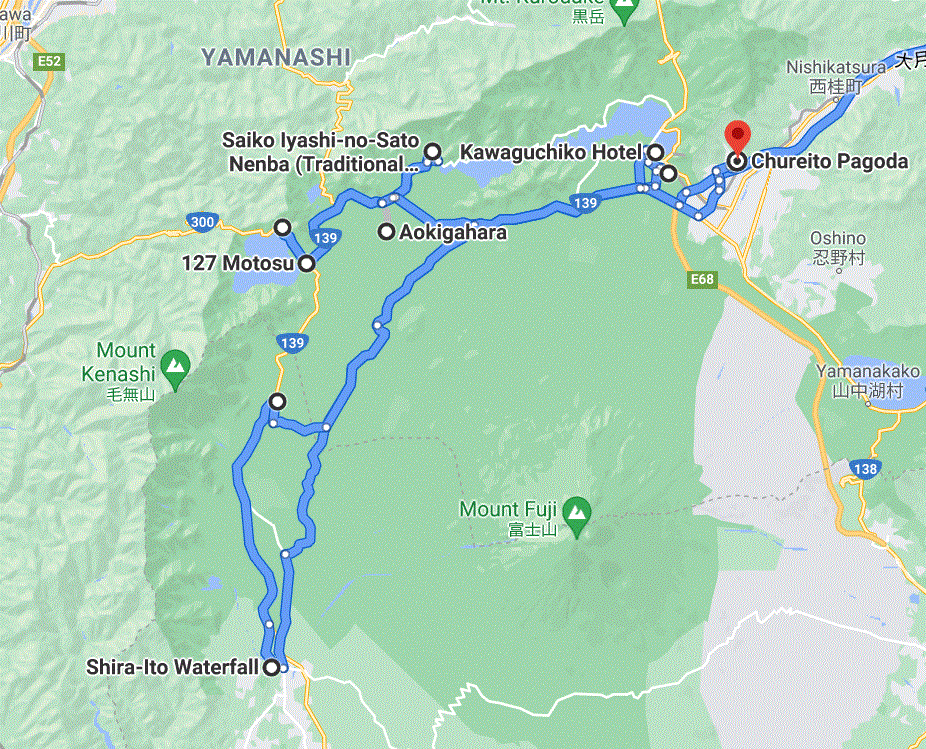 Ideas for next time:
Paragliding (can you imagine the views!)
Stand-up paddleboarding, kayaking, fishing, and other lake activities
Climbing mount Fuji! (We did it!)
The Fuji rope way and rabbit temple (in honor of Pepper of course)
Fuji Q theme park