January 2021 rolled around and we discovered Winter in our area to be extremely mild, with sunny days in the 50's (Fahrenheit) and no hint of snow. While Tokyo and other prefectures declared a COVID state of emergency and crazy headlines dominated the news in the States, we decided to get away from it all and seek out snow. May we present the Minakami Kogen Ski Resort in Gunma, Japan!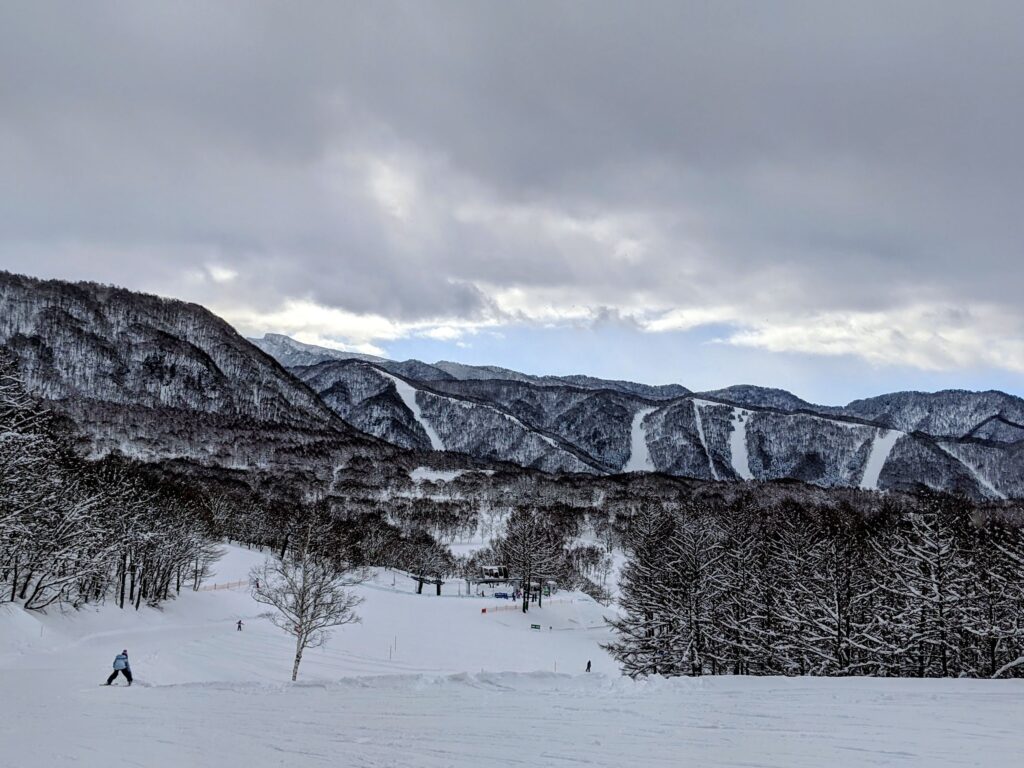 It was shocking how just a 2 hours' drive north into the Gunma prefecture transformed the landscape into a winter wonderland. We spent the weekend skiing, taking dips in the Onsens (hot spring baths), drinking sake, and playing in the snow!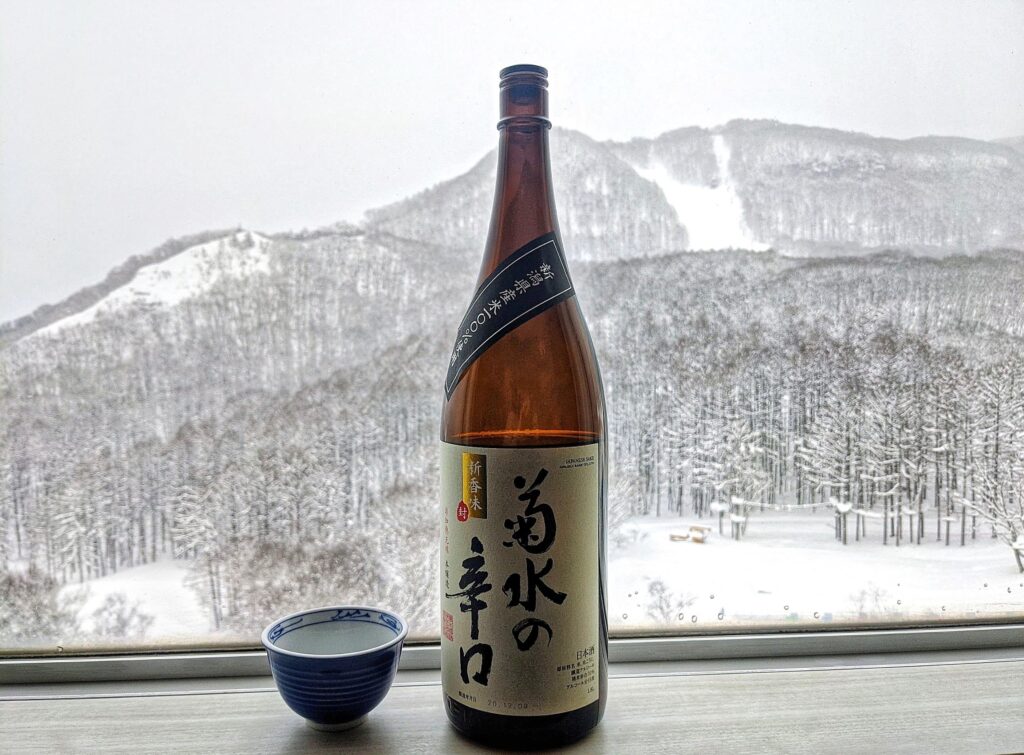 Friday evening was spent testing out the buffet, drinking sake, and watching the snow fall from the hot outdoor onsens at night. The hotel provides slippers and a housecoat which people do wear everywhere. Slippers are the preferred indoor footwear in Japan (unless you have big Westerner feet, then you're out of luck).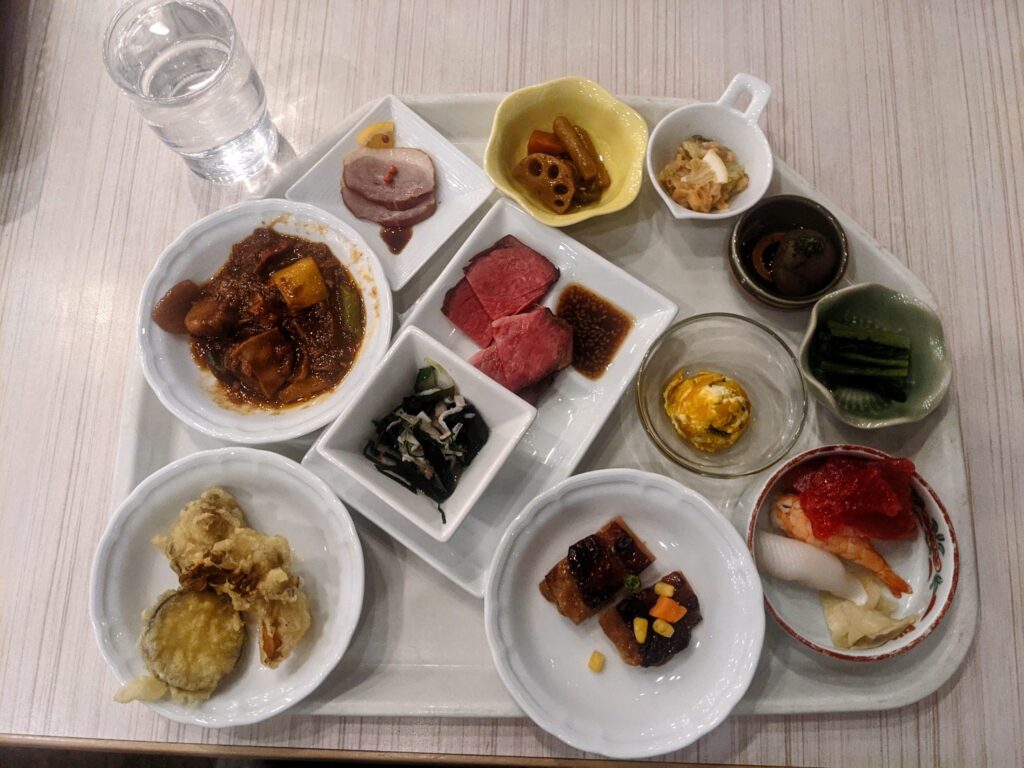 Saturday was our ski-day. I spent the first several runs crying/screaming down the mountain while Keith called out instructions, but once I got the hang of it, it was all gravy. The snow was the lightest and fluffiest powder, Christmas music was playing on loop in my head, and the weather was lovely; couldn't ask for more!
One major difficulty: the slopes have little to no signage. I made a wrong turn and started down a black diamond slope at one point with Keith shouting LAY DOWN NOW! into the wind. Thankfully, I'd just gotten over the fear of falling and promptly ate snow. Then it was a slow trudge back up to the fork to make the correct turn. Check the slope map before you go.
After about 5 hours of hitting the slopes, I decided to hit the onsen again while Keith napped in the room. I am a born onsen-lover, he is not. The water is excruciatingly hot; I can stay submerged to the neck for about 15 minutes before needing a cool-down. Then I might take a few more dips. Keith can make it about 5 minutes before uttering a lobster scream.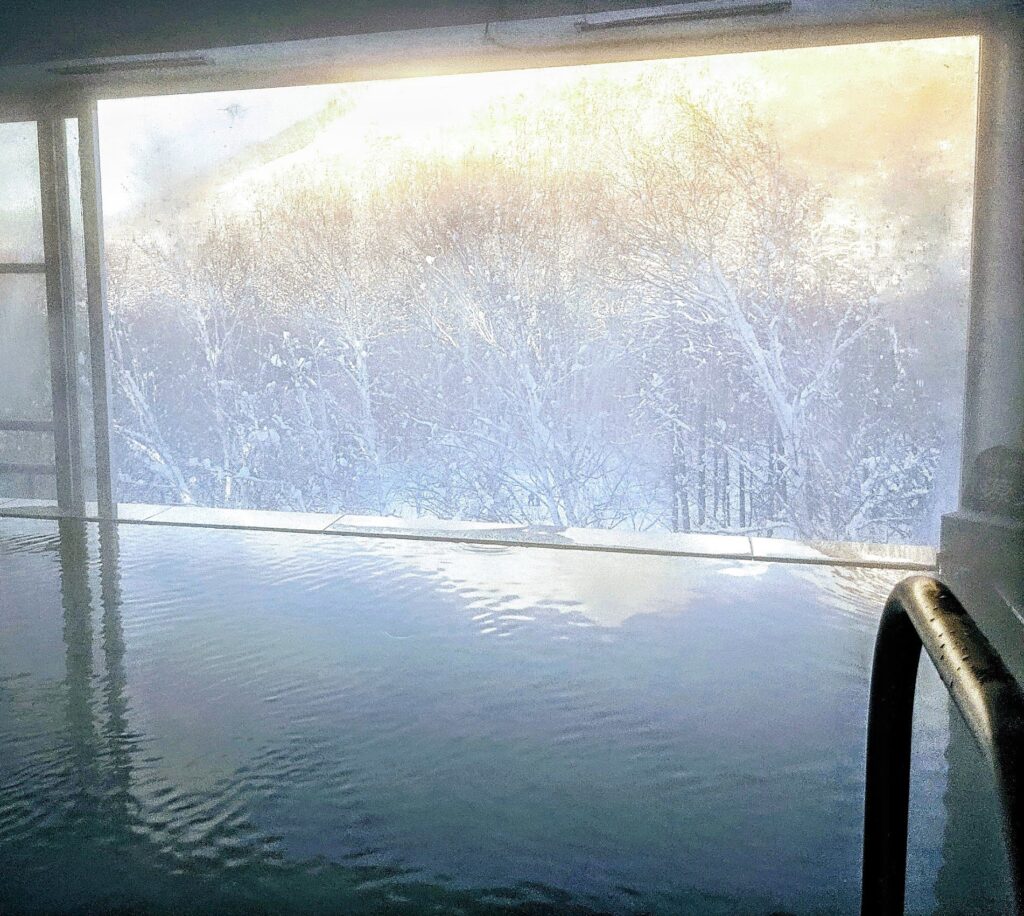 This was my first onsen experience so it was a bit nerve-wracking. As a Gaijin, I am not used to being naked in public. I read the sign that said "no swimsuits" and had to take a leap of faith walking into the next room stark naked thinking please God, let everyone else in this room also be naked. (They were, phew!). But most of the time I had the onsen to myself for a private spa experience.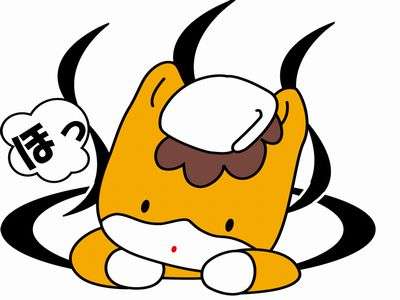 Following Gunma-Chan's example, this is Japanese Onsen (Hot Spring Bath) Etiquette 101:
No shoes!
No swimsuits (usually), no tattoos (usually). Exceptions to this can be found for mixed gender, family, or tourism-leaning onsens. You can get away with smaller tattoos but some onsens will require that you cover it with a bandage. Others may ask you to leave.
Always wash before getting in the water. The water should be kept impeccably clean; don't just rinse off, do a full wash with soap. This onsen had really nice smelling soap and collagen facial peels available! Shower while seated on the little stools so you don't splash your neighbor. Keep your hair tied back once in the bath; shedding in the water isn't nice!
You'll get two towels to use. One is a large one for drying off. Leave that in the dressing room. The other is a tiny towel and I have no idea why it's there. Modesty? (What would it even cover??). Perhaps it's to pat your face dry. Either way, you can bring that in and leave it on top of your head like Gunma-Chan to trap heat when you're out in the snow, or just to keep it dry. Don't let it fall in the water!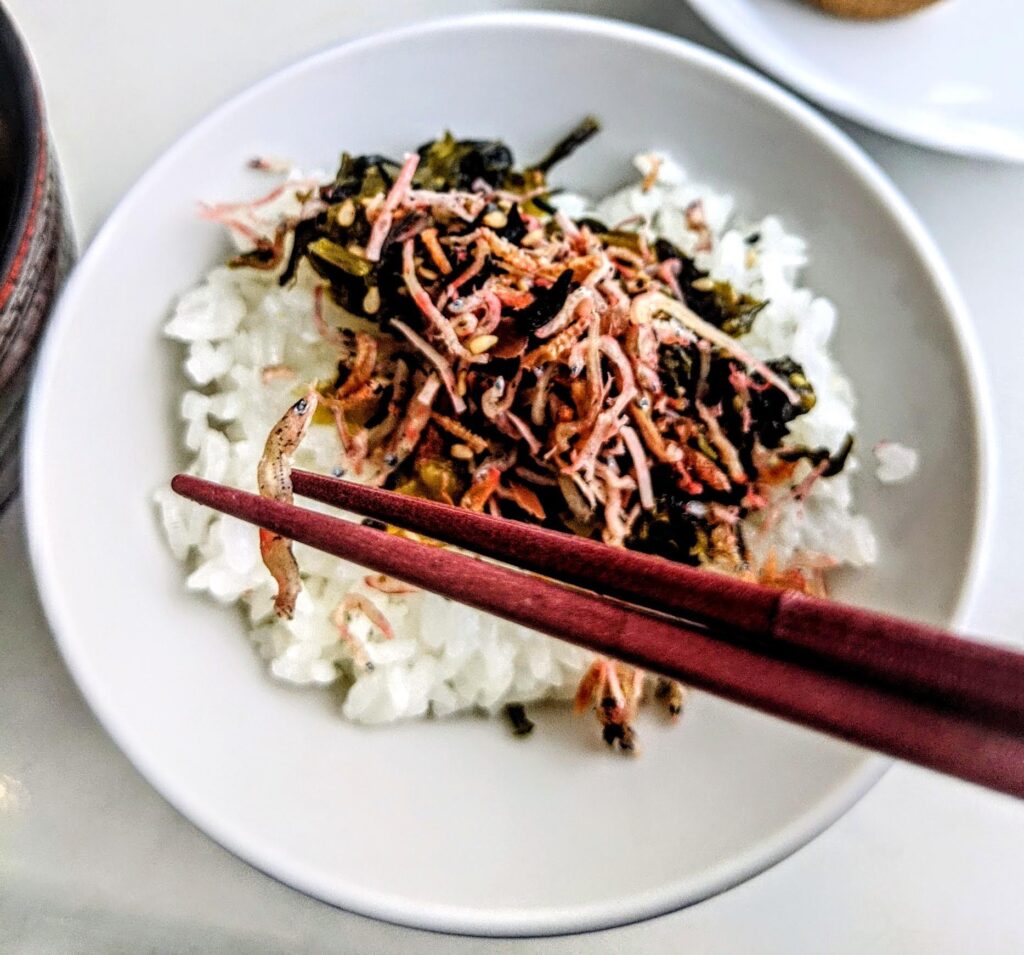 Sunday morning was spent with a leisurely breakfast buffet and packing up. Japanese breakfast is strange to say the least. The little crunchies on my rice turned out to be TINY EELS. ON MY RICE. And I had to eat it because the nicest lady ever made it for me and told me it would be delicious and I couldn't disappoint her. Fermented soybeans (Natto) are…gross. But I tried them and I'm happy I did. The black and red beans are very sweet and enjoyable! They are same beans that go in to the popular bean paste desserts. I enjoy trying all the strange things but also grateful for the safe back-ups like pancakes, eggs, and cereal. Note that they have a genius butter/syrup packaging that gives you just the right amount all at once with no need for a knife!! Where has this been in the States? Get with it McDonalds!
We would have liked to spend an hour snow shoeing, but they told us that snow shoeing did not start until January 12th. This was January 10th and the gear was right there…I say, there's snow, there's shoes, let's make it happen! But Japan loves to follow rules that don't always make sense. (See our train stop, crosswalk, and menu alteration gripes on things we love and hate about Japan.)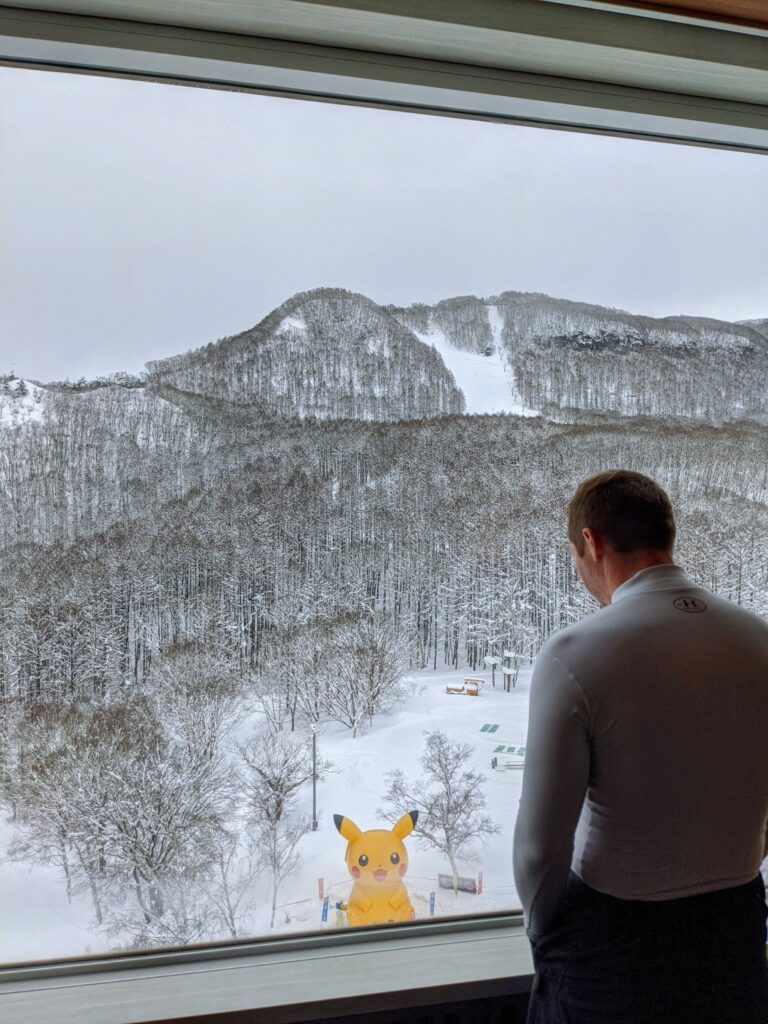 This was the easiest vacation we've taken in Japan so far, which is saying a lot. There's normally some confusion, difficult logistics, language barriers, and curve balls to be dealt with, but not this time! We booked our room online, booked the shuttle via email, rented ski equipment in advance, and just had to show up. Meals were buffet style and pretty self-explanatory, as were the ski lockers and lift. Though most of the staff only spoke Japanese, they were always kind enough to find us someone with basic English skills for anything more complex than pointing and nodding. We were the only non-Asian people at the resort for the entirety of the weekend (Japan is 98% homogenous and actively enforcing a travel ban right now) but we noticed that no one batted an eye at our presence or our difficulties with the language.
Although this was our first ski trip in Japan, we gather that many resorts have a nearby "village" with shopping, dining, and activities much like the states. This one does not; it is fairly isolated and the only resort that utilizes this mountain. Pros: We basically had the place to ourselves. At times I could turn 360 degrees on the slopes and not see another human being. The onsens were almost always empty and felt like a private spa. Cons: Limited activities, especially after dark. Of course, moments of boredom were the inspiration for us nose-diving into snow drifts like idiots and generally having a blast. At night we found ourselves taking strolls around the resort, reading in the library, and spending time on our phones after a day of playing in the snow.
Cost: All told, this vacation was $954.
Room rate: about $180 per night per person. The rate varied wildly based on date; we chose our dates based on price. For our 3 day, 2 night stay we paid about $722 for lodging.
Tolls: $68. Japan is notorious for expensive tolls, but the 2 hours we saved in drive time was worth it.
Parking: $22 for 3 nights' parking at the Jomo Kogen lot.

Pro Tip: Have the resort handle your transport from a half-way point! This was such an appreciated element to our trip; we had no need for snow chains or tires because we could park our car at this lot, only about an hour from our house, and catch the free resort shuttle bus from there up the mountain to the resort. They handled the tricky driving while we sat back and relaxed. There is also a tasty coffee shop at the Jomo Kogen station that has my favorite winter drink: Amazake.

Lunch Buffet: $15 per person, so $60 total for our trip.
Breakfast and Dinner: Free, this is included in booking costs!
Ski Lift Pass: $45 per person, or you can get a lift pass + a half day ski lesson for $50.
Ski Equipment Rental (jacket, skis, boots, and poles from Yokota's Rec Center): $60
Onsen Access: Free!
Winter Activities Offered as of Jan 2021: Skiing, Snow Boarding, Dog Sledding (depending on the dates), Snow Shoeing (depending on the dates), variety of sledding and tubing (kid-friendly courses), and plenty of other kids' snow activities. A sleepy Ping Pong room, Library, and Bar/Restaurant on the 11th floor.
Overall Rating: 8/10 Spuds
I have to say this has been my favorite trip inside Japan so far (Nara is a close second because DEER!!). I made fond memories and fell in love with the wintry charm of Gunma. However, I'd like to compare the value to other ski resorts that might have more slopes and more activities. Stay tuned for those.