Fussa, Japan: where you can find American burgers two doors down from authentic delicious Japanese noodle shops that speak no English at all. Pro Tip: Can't read/speak Japanese and don't know what to order? Use google translate to ask for their most popular dish and enjoy the surprise! It's the spice of life! (Or try saying/showing the word "Omakase", for "chef's choice").
Here's our running list of restaurants in Fussa. We started with the ones within walking distance to Yokota Air Force Base and then branched out once we moved off base. We haven't found a bad meal yet (*edit: except for the chinese place right outside Fussa gate, which was terrible…), but the absolute favorites so far are Bakamori, CARVAAN, and Kikyo. Our list below in no particular order!
Cafe D-13: This is such a cute spot. All they serve is muffins and curry. That's it! That's a weird combo right? Not just me? But they are both really delicious. As soon as you walk in the smell of baking muffins just washes over you. I had a blueberry cream cheese one (there is also a choice of fresh banana nut instead), chicken curry, and a latte. Not a combo I would have expected but I'll definitely go back for more! Super close to base. Plus we have the distinctive memory of this being our first meal after getting vaccinated with Moderna shot #1. We sat by the back window sporting our bandaids and just basking in the immunity.
Soba: (I call it Soba; the real name is a Japanese term I can't pronounce, but don't worry, here's the pin:
手打ちそば 櫓+81 42-800-2617 https://maps.app.goo.gl/kvCGkZrnV9mWvsRT7 ) This was another great cafe find! We stopped at this place randomly in search of a new lunch spot. The staff were super kind and we ended up with way more food than expected. I was feeling extra and made a video, so enjoy that below. They specialize in soba noodles but they also have sushi rolls, duck and chicken dishes, salads, sake, wine, and seasonal desserts. About 4 parking spots out front. My $20 lunch set included a big bowl of soba, variety of tempura, a new-to-me dish called Agedashi Tofu (not an air cake, as I originally said) that is to die for, an unknown fish/flowers/jelly dish that weirded me out, ice cream, and tea. Soba seemed plain but I gather that's how soba is supposed to be until you add extras to your taste. They have dipping sauces and powders and I didn't know what I was doing
Aurora (aka Aurola): European-Japanese fusion, reservations only. You'll find a creamy carbonara pasta with eggplant, sausage, and a Japanese twist: bonita fish flakes. Fresh crusty bread and yellow butter were a highlight for me; I don't often see bread offered in Japan. Husband enjoyed the venison burger and tempura fried anchovies, which on the English menu are called "blue splat escabiche". He is disappointed though that everything titled "steak" is actually a hamburger without a bun. "Hamburg" steak. The homemade tiramisu was the best dessert, but the "spicy" chocolate cake was also good (note that "spicy" on this menu actually means "spiced". This is a clove-y, cinnamon-y cake.) Atmosphere is relaxing and semi-upscale, Michael Bublé and Sinatra was our soundtrack and tv screens on a faux tree trunk in the center of the restaurant play scenes of the northern lights. Staff is exceptionally friendly and knows English! See it on google maps.
Bakamori: Yakiniku (cook-your-own-meat) style with the kindest, most welcoming staff and cook you'll ever find. Let them feed you!! We had difficulties translating the menu, but as usual we asked for "chef's choice" and boy did they keep 'em coming. If you're lucky they'll have you doing shots of "chinese sake" in no time. We had a seaweed appetizer, gizzard (not my fav, but husband loves it), thin marbled beef lightly seared, bbq chicken, and raw sesame-coated liver. Raw liver might sound gross but it was delicious. It was cold, chocolatey, meaty, and had a great dipping sauce, all finished with a toasty sesame flavor on top. All the meat was fresh cut right in front of us. The Japanese couple next to us was eating raw chicken…we weren't ready for that yet. No English, but they'll find a way to communicate! See it on google maps. The restaurant is located in the white building then to the left.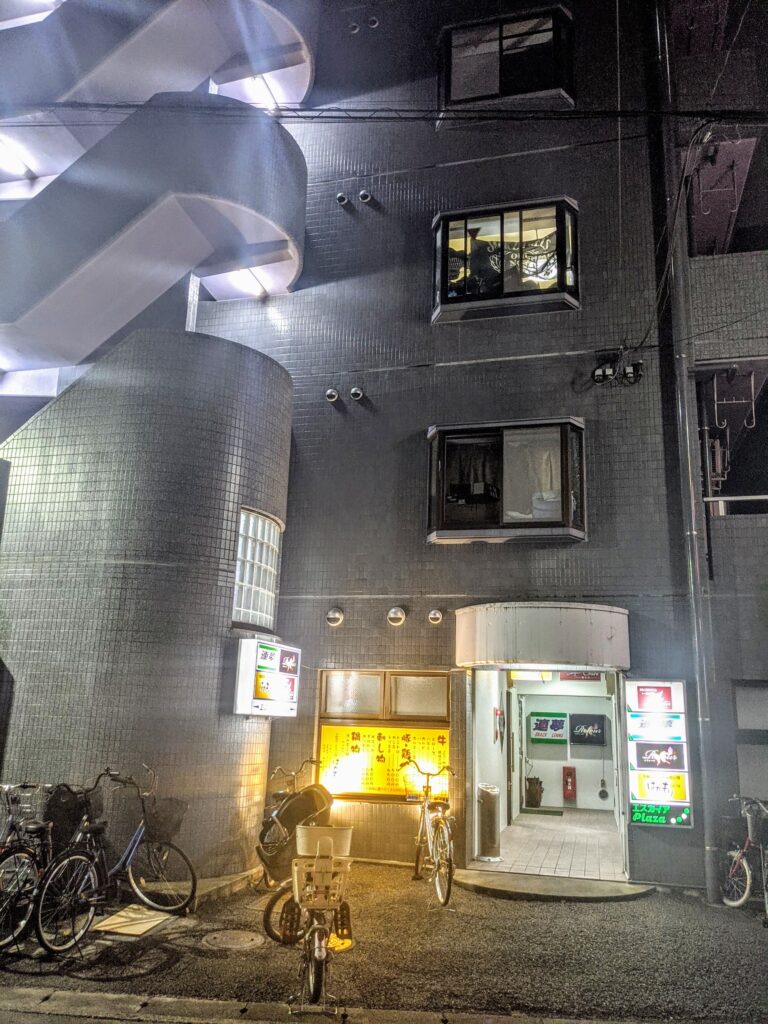 CARVAAN: (there are two locations close by to eachother, so careful to know where you're going when you make reservations! One is small and one is large with a brewery.) CARVAAN is favorite fine dining option in Fussa. Authentic middle eastern fare. Very upscale industrial-meets-arabian-nights atmosphere. I had the oxtail soup, salmon, and a dense flourless chocolate cake with dates, rose petals, cardamom, and spices. Delish. I also tried date palm liquor, which tasted surprisingly mild, and their house stout (would def order again!). I also can't say enough about the staff, who gifted me an umbrella when it started snowing unexpectedly. Pick CARVAAN for your next date night! See it on google maps.
Demode Heaven: Pizza with thin crust with tasty scorched spots. We haven't found great pizza in Japan, tbh. This is the best so far. They put all the toppings in the middle for some reason. American music, staff speaks great English. Best part was not the pizza but the calamari. Super fresh and crispy. *edit: Unfortunately we went back for more (twice now!) and the calamari was never as good, so it's luck of the draw. They also have a cocktail list and red/white wine here (red wine will be chilled). The desserts are really tasty, you can pick them out from the case at the back of the restaurant. See it on google maps.
Joyful Honda: Ok, Joyful Honda (and several other Japanese stores) needs its own post. There is so. much. there. It's like Ikea, but for every product imaginable, not just furniture. Want some fresh Wagyu beef, a dog, hedgehogs, a new car, a bonsai tree, bathroom cabinets, jewelry, clothing, camping gear, and a great lunch? Joyful Honda is a one-stop-shop. Lunch is Mall food court style dining…but with Japanese food cooked right in front of you and served on a hot skillet. Take your pick of ramen bowls, crepes, stir fry, seafood, and more. It's not fine dining but it is tasty. Some spots have English menus, some don't, but you can order by pointing to pictures (usually taped right to the counter where you order) and using basic phrases.
Kamushi House: (the bldg sign says Kamushi house in English but the Japanese says Yanagori, idk!) Okinawan Noodle spot (would be great drunk food) with tasty appetizers (good tofu!) and some weird cold dishes for adventurers, like horse tartare and fish guts. English menu available but staff speak Japanese. We aren't sure what we had because it didn't match what we thought we ordered, but we didn't mind; it was really good! See it on google maps.
Kikyo: Odin Noodle spot. We haven't figured out what Odin means yet (*edit, it's a popular winter dish with root vegetables and broth) or what some of the stuff in our bowl was, but it was all absolutely delicious. We can at least say it was tender meat and some kind of vegetables…possibly a fruit in there too. The skewered meat (chicken, liver, gizzard, beef) was tender, sweet bbq. It was basically candied. No English, we used google translate! See it on google maps.
Khaomangai R16: Street Thai. Staff speaks great English, menu is all photos and easy to pick from. We had a lemongrass tofu appetizer, pumpkin chicken, and a Thai omelet with a mango lassi and carbonated coconut sour. They also have bento boxes for lunch takeaway, only $5! See it on google maps.
Ramen Misoya:
This is a Michelin-recommended restaurant chain, not Michelin starred, which many people confuse it with. It features miso-broth ramen recipes from all over Japan! There is a map on the menu that details exactly what variety comes from where. Very relaxed, low-key atmosphere, plenty of space. Menu is extensive and all in Japanese, so I just picked the big photo of the special. Ramen was tasty and I loved the rich and creamy broth! See it on Google Maps. By the way, while we are talking Ramen. The Ramen next to Don Q is fine, but its not great. People go there because it's easy. These are local ramen places that long-time Yokota residents and native Japanese have recommended to me: Kippoushi, Black Box Ramen, Factory Ramen, Ramen Misoya, Biton, and Menya Tamura (try the vinegar dipping sauce at Menya!). A strangely popular ramen place that I hate: Kappa 64. (They had the good idea of serving non traditional ramen with a twist like tomato ramen and lemon ramen – but in practice it is plain ramen noodles with marinara dumped on top and somehow kind of fishy. I'd rather have spaghetti.)
Torazen: Okonomi Teppan & Wine
This is a nice restaurant! As far as fine dining in Fussa goes, this is our #2 (CARVAAN being #1). It is very expensive, but comes with a fancy, vibing atmosphere with delicious dishes. Everything tasted absolutely delicious except dessert, which was frozen solid and took half an hour for the staff to bring out (probably because they were trying to defrost). Do not hesitate however to try the volcano steak, sliced filet, foie gras, or balsamic mushroom appetizer. They all came with complex, delicious sauces that blew my mind. Maybe a chimichurri and a ginger/horseradish/gorgonzola? There is also a okonomiyaki bar area. The staff spoke only Japanese and used a translation app to help us order. See it on google maps.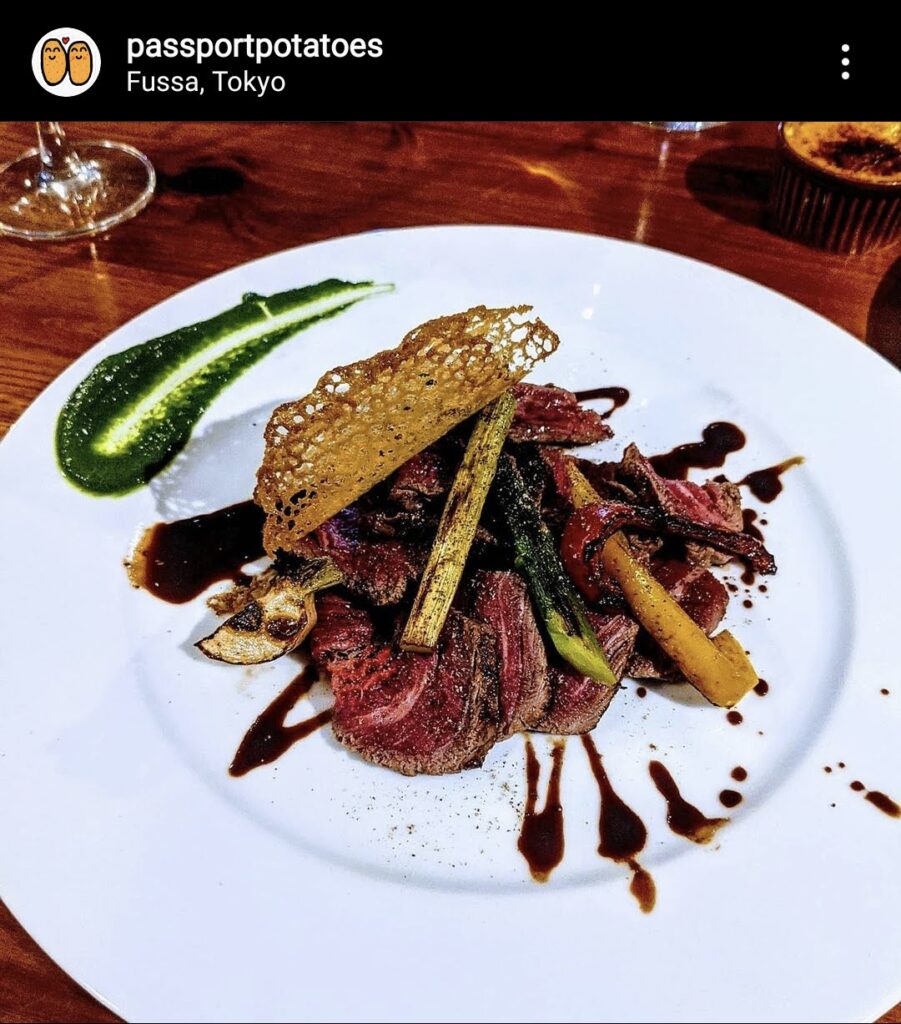 Un Quinto: Italian right off base
THE CAESAR SALAD IS BOMB. They cover it in parm. I would say the pasta entrees are just "ok", but the apps and desert are fresh and delicious (I loved the liver pate on crusty bread, the persimmon salad, and the tiramisu. I would order a bunch of apps and go Tapas style rather than order entrees). Staff speaks mostly Japanese but menu is in both Japanese and English. See it on google maps.
7-11/Lawson's: Seriously don't knock convenience store food in Japan. It's delicious. The creamy egg sandwiches on fluffy, crust-less white bread are my fav. I'll take one of those any day for breakfast or lunch. The Kimchi is also delicious and there are weird drinks and matcha flavored desserts galore. Their fresh hot coffee is also choice.