This will be a one-stop shop for how to travel in Japan: everything about when to visit, how to visit, how to find places to stay and eat, how much Japanese to know, and more based on my 3 years living here. If you're planning a trip to Japan right now, you're smart.
Are the Borders Closed?
Tourism is closed right now as it's 2021 at the end(?) of a global Pandemic…but not for long. My prediction (as a normal person with no inside info but much confidence in making statements that I can't back up) is that Japan will be open for tourism in early 2022. Vaccination rates are at an all time high, virus transmission at an all time low, and the general election just ended. Being the early bird as travel opens up will secure you a rarity: seeing national treasures without crowds. Normally to see Mt Fuji, Arashiyama Bamboo Forest, Inari Temple, Beppu Onsens, Tokyo Sky Tree, Gundam Robot, etc without a giant selfie stick or multi-hour wait would be extremely difficult. You'd have to get up at the buttcrack of dawn and time your trip very carefully. Getting in before the pack once borders open is going to be key!
When to Visit
TLDR; Visit in Spring or Fall, avoid Golden Week and New Year's, and hit big tourist spots on weekdays instead of weekends!
You're going to have a great time any time, but you may want to consider tailoring your visit depending on what you'd like to see. Nature lover? Absolutely Spring or Fall. Ski lover? Winter! Looking for warm nights and fireworks festivals? Summer! Here's some seasonal info to keep in mind:
Japanese holidays will make everything way. more. crowded. There are tons of holidays but the main ones to avoid are Golden Week (late April – Early May) and New Year's. Also try to hit popular landmarks on weekdays rather than weekends. No one likes to wait for hours in a long line to get a short glimpse of a national treasure.
Always check city event calendars for your destinations. If you can align your visit with a cultural festival, you won't regret it! Seeing a Buddhist Fire Festival by chance is still my favorite memory of Japan.
The most beautiful seasons in Japan are Spring and Fall, when Sakura (Cherry Blossoms) are thick in the air or the hills are bright yellow and red from changing leaves. You can check the dates for the best foliage here and here. Summer is unbelievably lush and green, however the humidity and sheer strength of the Japanese sun can be exhausting. It's also hotter in the cities; all that asphalt. Winter is the best season for ski trips, hot drinks, and toasty onsens, however the natural beauty of the country is hidden. In some areas there will be white fluffy snow but in other areas it is dead looking while nature waits for Spring to come round again.
Is climbing Mt. Fuji on your bucket list? Keep in mind that there is an official climbing season: early July to early September. Outside of these dates, the mountain huts, shops, and stamp stations are all closed and rescue teams will not be available. Fuji is most beautiful when it has a snowy cap, but much easier and safer to climb in the warmer seasons (it will still be cold at the top).
How to Get Around
Trains! Japan is known for excellent public transportation where the trains are never late. Your best friends for utilizing this fantastic system is the JR Rail Pass, Suica Card, and Google Maps. The JR Rail Pass is much like RailEurope – it allows you access to multiple train lines and multiple companies during your trip for less. Much easier than buying individual tickets every time you have to hop on a train. If you're visiting major cities across Japan, where trains are the best way to travel, you'll want a rail pass. All you need to do is bring your passport to a designated ticketing office or order online!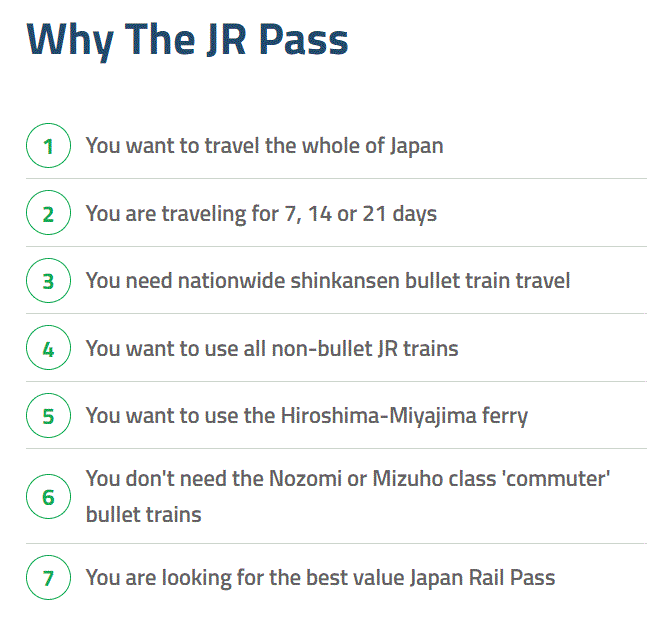 What makes a Rail Pass convenient (aside from saving money!):
You can buy the pass and activate it on the same day.
If you miss your train, no big deal. Just go to the ticketing machine and re-reserve a new seat for the next train.
You can reserve a seat for Shinkansen (bullet train) rides too!
You can get it online! They'll ship it to you the following day. Click here to learn more or purchase one.
A Suica Card is a preloaded card that you can tap on sensors as you board and exit trains. It will automatically calculate and charge your fare and they are easy to reload using the app or at a Suica machine at most train stations.
Google Maps is a life saver. It will show you prices, departure times, and best routes for all the train lines and companies.
Car: For big city travel I recommend a train, but for more rural areas or just to have complete control of your schedule, driving in Japan is easier than you think! Drivers are polite and communicative. Things to keep in mind:
Speeds are slow and red lights are common, which means accidents are infrequent, but of course it also takes longer to get around.
Because some of the roads can be narrow enough for only one car to pass, there are always large mirrors installed so you can see if it's clear before turning on or off the road.
Use your hazard lights to say thank you when someone lets you go first!
For long term stays I'd recommend getting an ETC card so you don't have to stop at any tolls; it will automatically charge you as you drive right on through.
Plane: Always check the price to fly to a more distant location in Japan, even if there are train and car options. You might be surprised how fast and cheap it can be!
Do I Need to Know Japanese?
Short answer – nope! However that doesn't mean you can just use English. Most Japanese people took some form of English in school, but they often don't feel comfortable with the language or have forgotten their lessons depending on the region you visit. In big cities like Tokyo, you'll hear English often! However just outside of Tokyo in Fussa, I find that most people cannot understand me at all. The most important tip I can give you for traveling in a country where you don't understand the language is to be flexible. You may get the wrong food order or directions. It happens. If you expect everything to go perfectly the first time you will experience many frustrations. If you allow the trip to happen as it happens and enjoy surprises, you will have fantastic stories. Here are some key phrases that I recommend learning:
The basics: Hello (Kon-Ichiwa), Please (Kudasai/Onegaishimas), Thank you (Arigatou Gozaimas), No thank you (Keiko Des), Help (Taskite).
Extras phrases coming soon along with info on hotels, AirBNB's, Ryokens, Food, and general costs of travel.