Another Italian classic direct from Mario in Cortona, Italy. This is a smoked pasta in a delicious vodka sauce accompanied by pancetta and a punch of rosemary. Mario famously says it serves "a lot"…Luckily with this one, every measurement can easily be adjusted for taste and texture, which is important when trying to replicate Italian ingredients in the states! The recipe originates in Cortona, Mario's hometown. A similar version with pici noodles can be found here.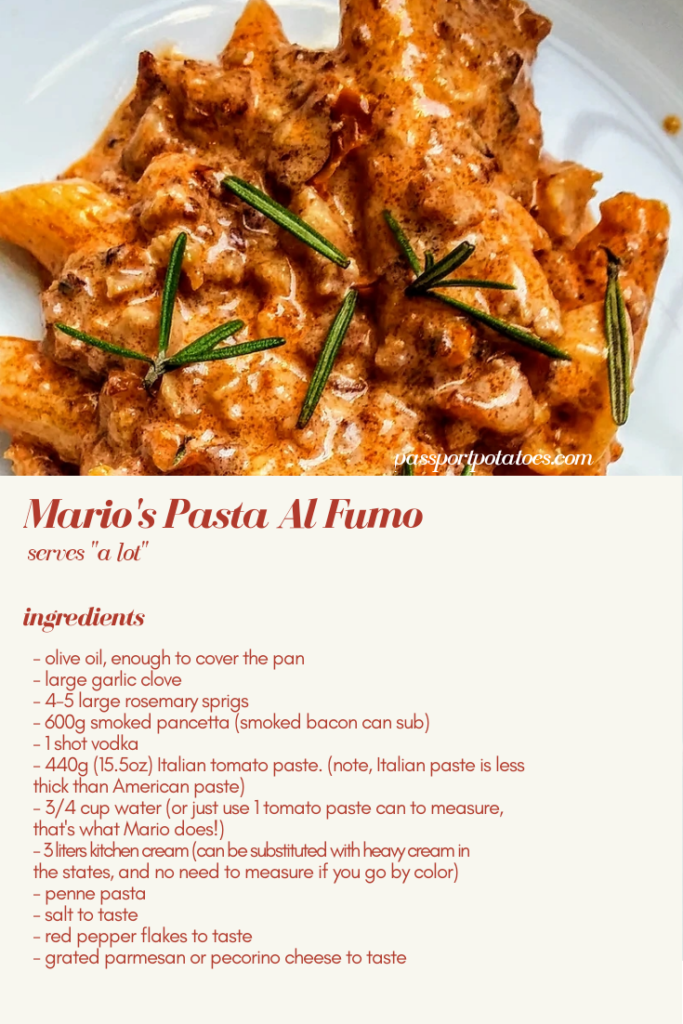 Directions:
– Pour olive oil into pan, enough to barely cover surface. Add garlic clove and small spring of rosemary, and cook on medium-high heat until garlic and rosemary are brown.
– Remove garlic and brown rosemary spring, and turn the heat to low. Add a fresh sprig of rosemary and the pancetta (the pancetta should be diced, Mario used kitchen scissors)
– Cook Pancetta for 20-30 minutes, stirring so that it doesn't stick to the pan, until crispy and brown. Remove rosemary sprig and replace with a fresh sprig often for a fresh rosemary taste.
– Pour in vodka and cook until alcohol has evaporated (when you can no longer smell the vodka).
– Add tomato paste, add can of water, and stir. Cook the mixture until it starts bubbling.
– Add cream and bring to a low simmer. (I don't measure the cream but just add enough so that the color of the mixture is reddish-orange like Mario's.)
– Add salt and ground red pepper to taste. Note that the pepper flavor will increase as you cook. Add pepper earlier if you want more of its flavor by the end.
– Simmer on low heat for about 30 minutes and then let stand.
– Cook penne paste until it is al dente.
– Drain pasta. Pile sauce on top. Mario uses 4 big spoonfulls of sauce per serving….I like a lot more. Be sure to get the pancetta from the bottom of the pan. Serve with grated cheese on top.