The Festival of San Fermin is an annual summer festival in Pamplona, Spain, celebrating the city's patron saint. The 9 day marathon of a celebration includes a fireworks, the famous running of the bulls, and crowds of sweaty, singing, wine-soaked enthusiasts.
I went to see the bulls in 2013. I have to be honest here, this was my least favorite part of Spain. The city looked as if a natural disaster had just hit. Trash everywhere, drunks lying in the street, vomit and urine on the walls, throbbing crowds, baking heat. When I first arrived at our campsite, chosen for how close it was to the bulls, I saw some Australian blokes helping their buddy to his tent at 11am. He was so trashed that the tops of his bare feet were dragging on the ground. Spontaneous concerts played all day and all night long. The ground was hard and uncomfortable. Sleep was not an option.
On the morning of the first bull run, I woke up at 4:30 for a 5am bus ride, exhausted and sleep-deprived but excited. I planned to be in the run, prepared with my red bandana. Well, our drunken camp mates made the bus late and we missed the start of the run entirely. You have to get there early if you want to run or watch, since the sides of the course are boarded up and thronged with crowds already by the start. So we missed out on both. The whole thing was a bust.
I ended up dashing through the streets of Pamplona, trying to take shortcuts and catch up to the bulls for even a glimpse of the whole reason I came to this city. I finally did at a corner on the course, scrambling up a small tree to peer over the boarded walls…and they werent as magnificent as I'd hoped. Really it's more of a trot than a run. The humans are going pretty slow too because half of them are drunk. I imagine that's the real reason behind all the injuries. A security guard shooed me down and I gave up, completely disappointed. I wandered to a coffee shop to watch the rest of the run live on TV, where it looked a lot more exciting than it was. Camera angles are everything.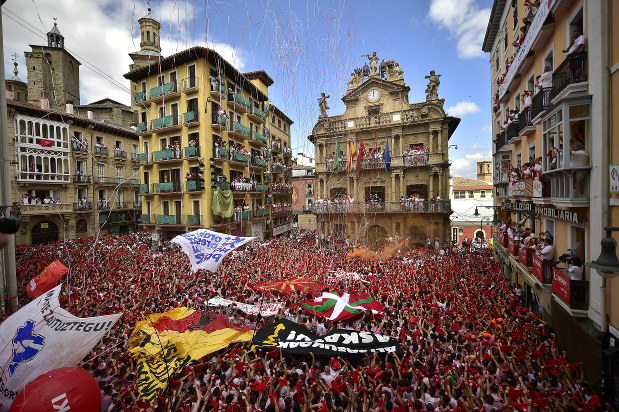 San Fermin's opening ceremony, Chupinazo, starts exactly at noon on July 6th with a rocket launched from city hall. The town square was packed with people. More were more pouring in all the time from the side streets so that many of us in the middle were forced upwards on to trashcans and streetlight bases to make room. You can hear the roar for yourself here. I felt a thrill as I looked out over the crowd from my little perch. People were shouting, clapping, cheering, singing, and crowd surfing. Water cascaded down on us from balconies lining the square (bless them, it was so hot). Then the balcony viewers threw sangria, and the crowd went wild. We all started throwing wine, from our glasses, from our touristy leather wine flasks, from who knows where. Then the flour started. Someone, then everyone, suddenly had fistfulls of flour and were throwing it in the air like snow. It caked on top of the sangria that was running down our faces and in our clothes. We all looked like pink, sugar-covered zombies by the end. The energy of the crowd, and general happy drunkeness of more than a million people packed into Pamplona, charged the atmosphere. The feeling was short-lived, and gone entirely by the time I had to dodge an errant swing in a drunken fight while on a hangry search for affordable food. The sweetest part of the day? Getting to shower and sleep in a bed. I wasn't sad to leave early, even though it meant losing money on the campsite.
This trip was my fist time in a country where I couldn't understand the language. On top of that I made two rookie travel mistakes. My first mistake was to over-schedule, and my second mistake was not realizing what kind of travel I actually enjoy. I had a list of things to see in every city with very little buffer room. I ended up tired, lost, and bitter much of the time for not making all of my stops. Lesson learned: always leave some chunks of empty time. In fact, emply, un-planned time is often when you discover things you never knew you wanted to see. I was allowing all the delays of travel, which are bound to happen, spoil my trip. Luggage gets lost. You get lost. Trains are late. Things are closed unexpectedly. Assholes exist. I also learned that I love quiet, beautiful, nature and food oriented travel rather than racous, high-energy party travel. I'd rather be in Mendigorria sipping coffee or San Sebastian with my toes in the water than Pamplona during San Fermin any day.
My 2013 Spain Itinerary (can you believe I found my old itinerary?!):

3-4 July – Arrive in Barcelona. See the Sagrada Familia and tons of other landmarks.
5 July – Train to Pamplona at 8am. Attend bull run preview in the afternoon, settle into the campsite.
6 July – Shuttle to Pamplona with tour group for the opening ceremony and parade, followed by fireworks, shuttle back before midnight.
7 July – 5am departure for the first bull run, then brunch. Option of spending the rest of the day in Pamplona or heading to San Sebastian early.
8 July – Option of trying for bull run #2. Leave for San Sebastian.
9 July – Spend the day in San Sebastian. See the Combs of the Wind, Palacia Miramar, the beaches, fisherman's quarter, and the bar district for evening tapas and cocktails. Spend the night, or leave early for Madrid by train.
10 July – Madrid, see the Royal Palace and the art museums.
11 July – Depart Madrid 11am