In October 2019 Keith received a text from his friend that his father-in-law was considering selling a 36 acre parcel of land located in Traverse City, Michigan. Keith loved Traverse City after visiting a few times for guys' weekends on beautiful Torch Lake. He floated the idea to Randi on the potential of purchasing a section of this land with a lake view. To his surprise, she was more than receptive and the conversation and long-term investment idea evolved. Apparently Randi had always wanted to own land (and goats!) and even looked into land in Texas a long time ago. On October 19th, the power went out and while faced with no Netflix, we sketched out our ideal lakeview homes.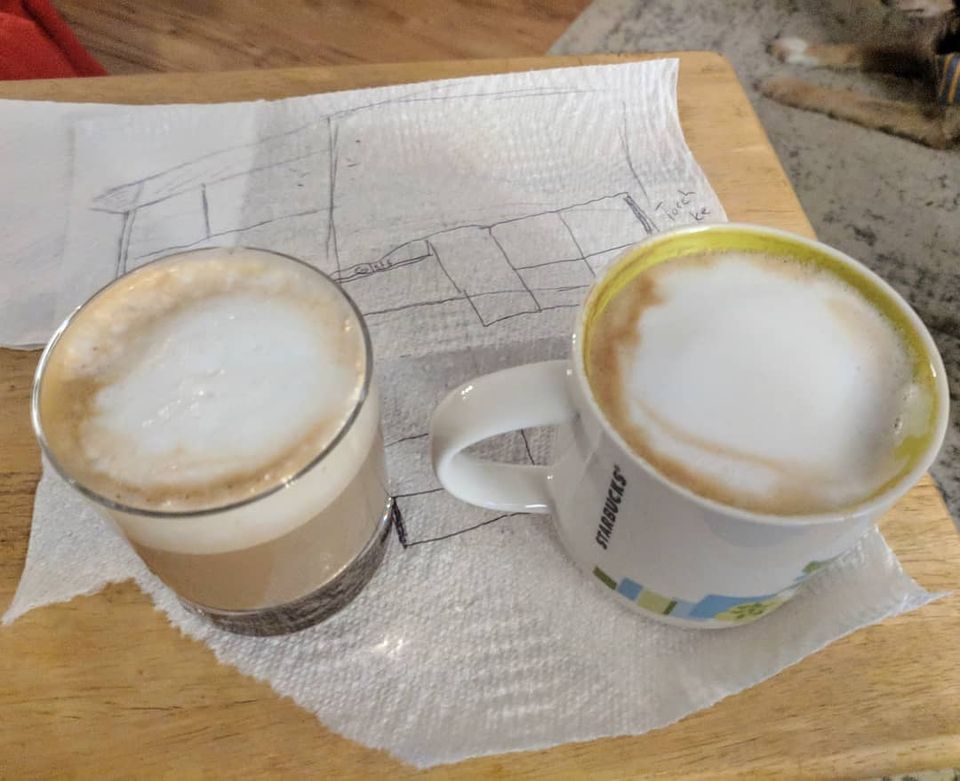 The Evaluation / Nerd Process
Buying a piece of land on a whim was not Keith's style and Randi is far too thrifty for that herself so we did what we do best which is analyze things to death….so Keith got out the white board and Microsoft Excel. We took a look at all 50 states and ruled out the obvious ones that we would not like to live in (ex: Alabama, Mississippi, Hawaii, etc..). We then built analytic factors for the remaining states: dining and hospital within 30 minutes, income tax, property tax, sales tax, water view, mountain view, average snowfall, winter/summer temperatures, humidity, livable weeks (yes this is actually a value that can be found), amount of sunny days and finally the comfort index score.
Once we had the nationwide numbers figured out we applied this to all U.S. cities and found that 10 states fit our criteria: Michigan, Idaho, New York, New Hampshire, Maine, Oregon, California, North Carolina, Tennessee and Washington. This still seemed like too many so we started looking at average price per acre and even calculated what our income would be in each location based off of our pensions, 401k payouts, and cost of living increases per state. This narrowed it down to Michigan (Kewadin), Idaho (Sagle), New York (Lake George), California (Temecula and Lakehead), New Hampshire (Dalton, New Durham, Wolfeboro), Washington (Nine Miles Falls) and Maine (Sebago).
Let the Hunting Begin!
So what did we do next? We drove to Michigan to look at the friend's family property and other available properties in the area. We looked at 15 plots of land while we were there and while they were nice, it wasn't the view that we really had in our minds. We were willing to wait and keep looking. The friend's property fell through anyway because the father-in-law had second thoughts on selling, so our searched continued. Our ideas of retirement life started to take shape; would we stay there all year, or be snowbirds? Would there be a hobby farm (Randi)? With goats (Randi again)?! What would the house look like? We enjoyed imagining walking the property with our dogs, snow-shoeing in winter, and boating in summer.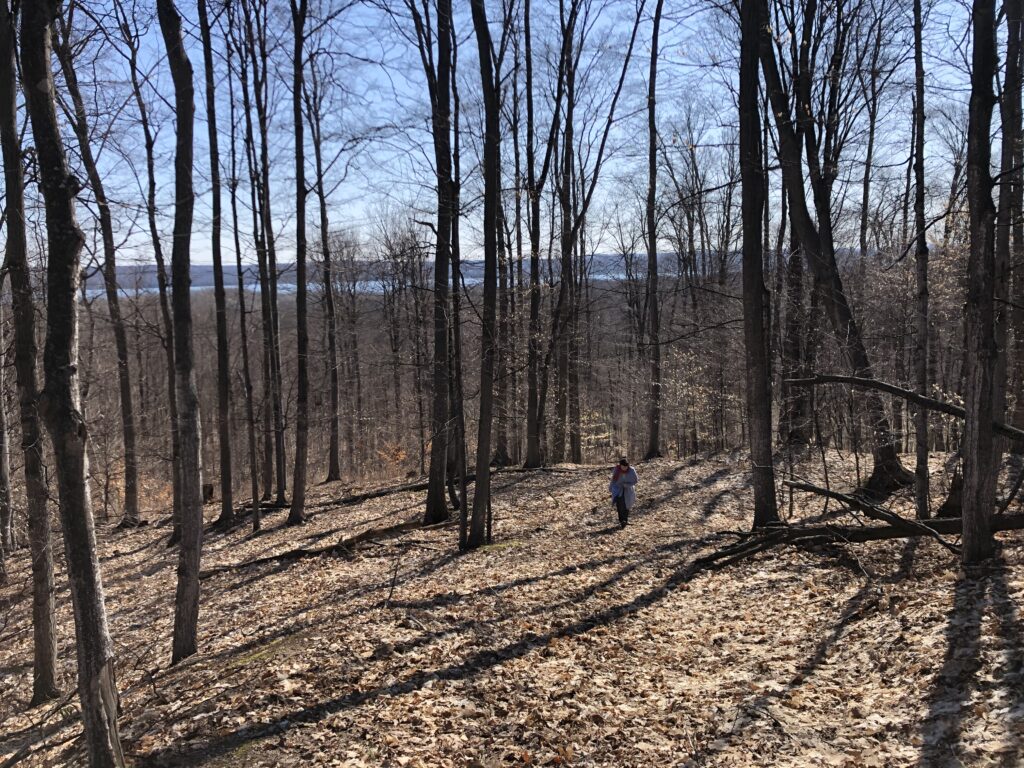 Next on our list to look at was Sagle, Idaho which is located in the panhandle of Idaho by the Washington and Canadian border. The more well-known city in the area is Coeur d'Alene because a handful of famous actors and athletes have mansions on Harrison Slough (lake). We looked at ~20 properties and even met with a realtor to show us land that he thought might fit our criteria as well as plots that would be on the market in the future.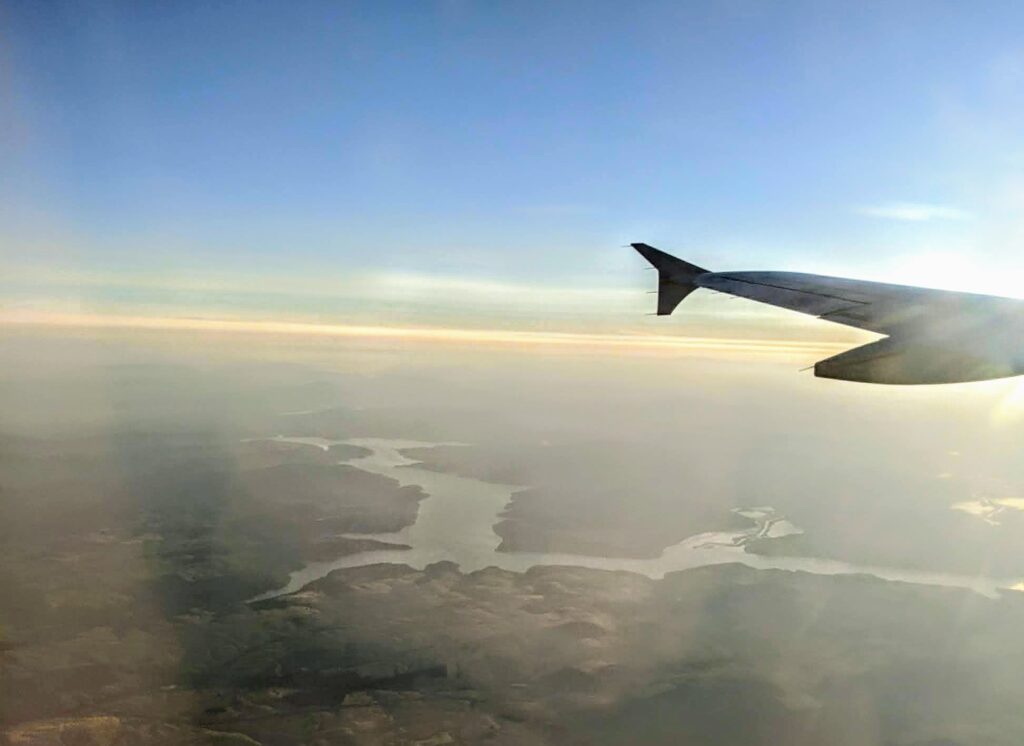 What we found is that some areas can be extremely rural and difficult to get power and handle snow removal. Our favorite property from Zillow was quickly ruled out, as it would need at least twice daily snow removal in the winter just to leave the driveway. Amazingly, properties just on the other side of the lake didn't have this problem. We stomped around through thick brush to see some properties that had no roads and weren't bit by a single mosquito, a big pro for Randi. We also discovered a moose. We learned the costs of septic installation, well drilling, solar power, price per foot of running electric to a build site and what acreage size we would be happy with (answer: 5 to 40 acres). It was like an episode of HGTV.
The property that we loved most overall was a 7 acre piece of land located on the side of Eagen Mountain overlooking Lake Pend Oreille with a backdrop mountain view. We discussed it heavily but when we went to make an offer, a contract was already pending. The buyers had even already parked their car on it to take in the 270 degree view of the water.
In total, we toured ~20 properties. Here are some pics of the properties we looked at:
We even saw a property that took 30 minutes to drive up the side of the mountain and a 15 minute trek on foot from the closest place to park a car. The view was deep into a valley reminiscent of The Eagle's Nest in Germany. The only way to get to it efficiently would have been to build a gondola…but it was awesome and would have been a million+ dollar view.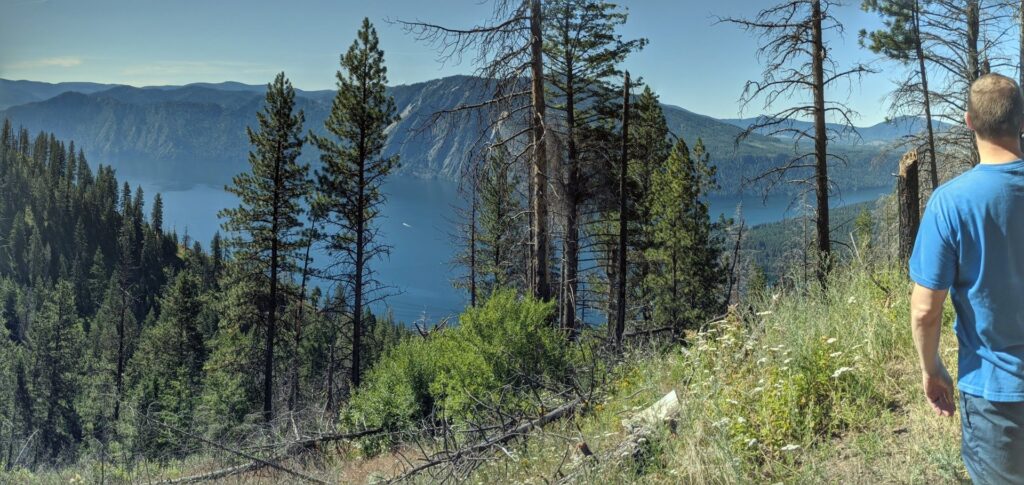 This trip was much more fruitful than Michigan and it gave us a lot to think about. Since the property we would have wanted was not available, we told the realtor to let us know if something else opened up but we would continue to look at other states on our list.
On a whim, we decided to go back to the Eagen Mountain property on our final day and take one last look. There was a smaller property right next door but we hadn't paid much heed to it because it was clearly a sheer cliff face with limited room to build. Again on a whim, Randi decided we should do some on-foot exploring since we were already there, and besides it was a surprisingly nice warm day. We hoofed it to this adjacent property. Although steep and well-hidden from the road above, it actually offered plenty of space for a house with an amazing lake view very similar to the one that was just snatched up. We were shocked. Had no one discovered this property up simply because it looked like a cliff from the road? We expressed interest to our realtor immediately, with Randi chomping at the bit to put an offer in, and flew home the next day to think on it.
The Art of the Deal
In March the COVID pandemic hit and any further travel in search of our dream land was put on hold. Our realtor contacted us with details about the hidden Eagen Mountain plot. It was 5.03 acres and had a well drilled, septic installed, and power running along the property lines.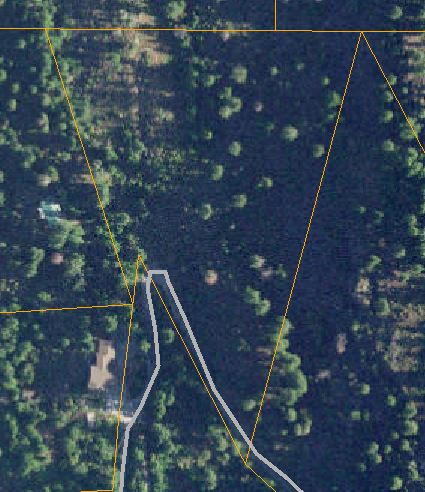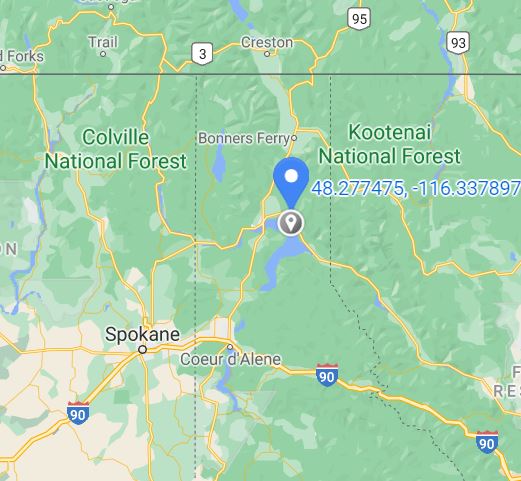 After COVID started, the market had become extremely hot due to interest rates dropping and people's desire to move towards "defensible positions." Californians were flocking to Boise and Sandpoint (the closest town to our hidden property) because of high taxes, civil unrest, and cheap land to build luxury homes on. As companies moved towards working from home, people started moving away from big cities. This property was within our budget and just waiting to be snatched up, so we decided to put a low-ball offer in and see what happened.
After going back and forth with the owner several times we had agreed to a price, but they were not willing to offer private lending so we had to navigate the land-only loan world.
There were two companies in the United States doing land loans and we found out two weeks into the process that they were no longer processing new loans due to extreme demand, so we got in right under the gun. It took over 4 months to close because of appraiser demand. We thought we could lose the property when we asked for an extension.
We did not, and officially closed on 16 October 2020….almost a year after we started this journey. If you want to be our next door neighbor, their house is for sale.
Without further adieu here are the pics of our new property, Fort Wilson (name still in the works):
Keith took a risk and for our first wedding anniversary hired a professional photographer to take pictures of the property before we actually owned it because Randi kept saying "I wish we had taken more pictures when we were there but we didn't know if it would ever be ours." Here they are: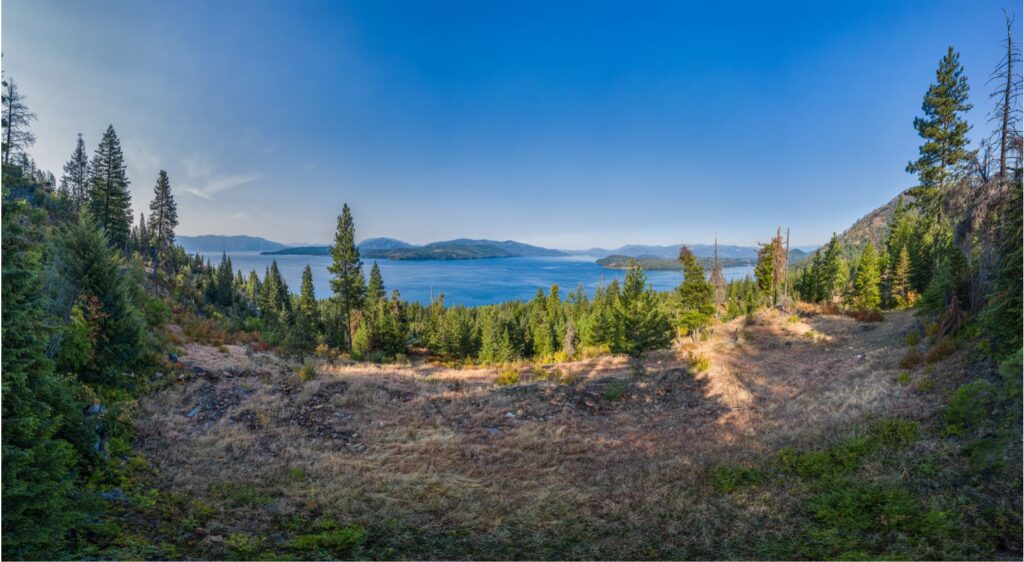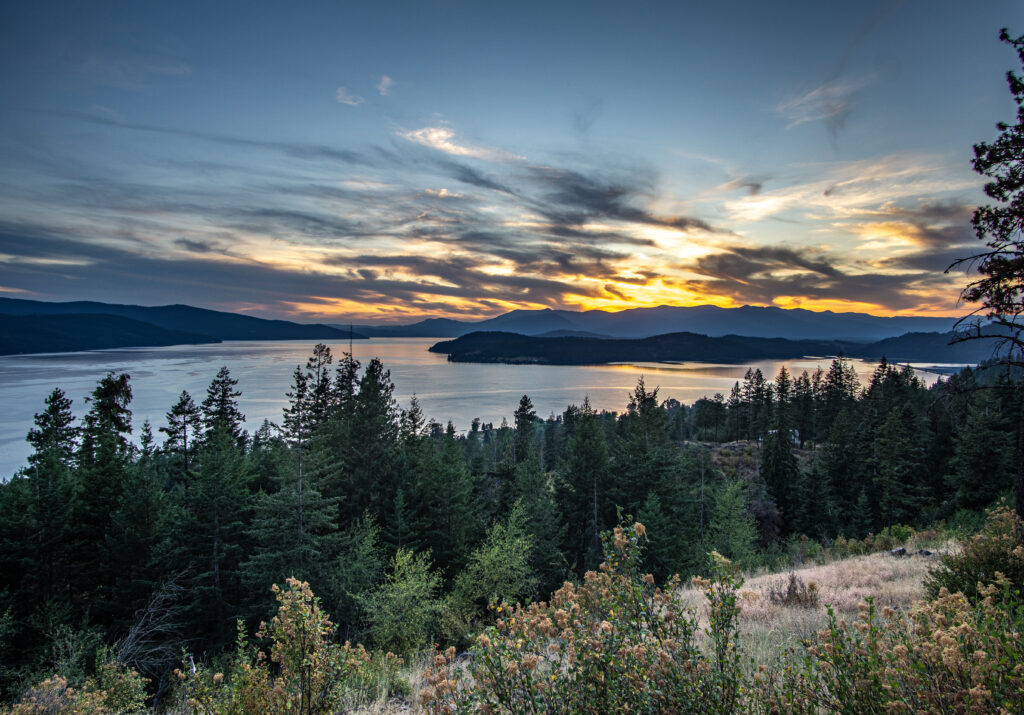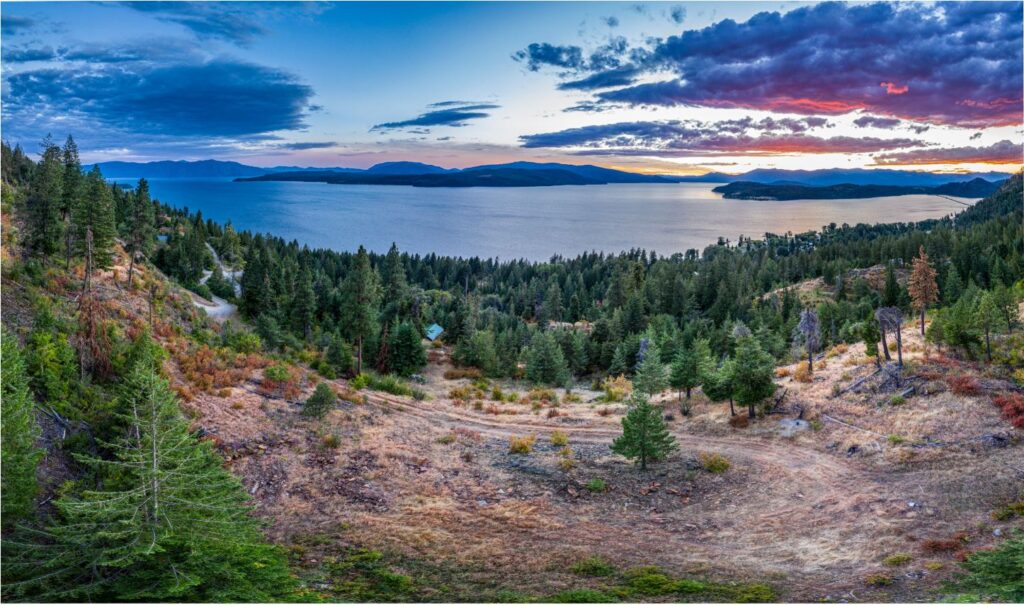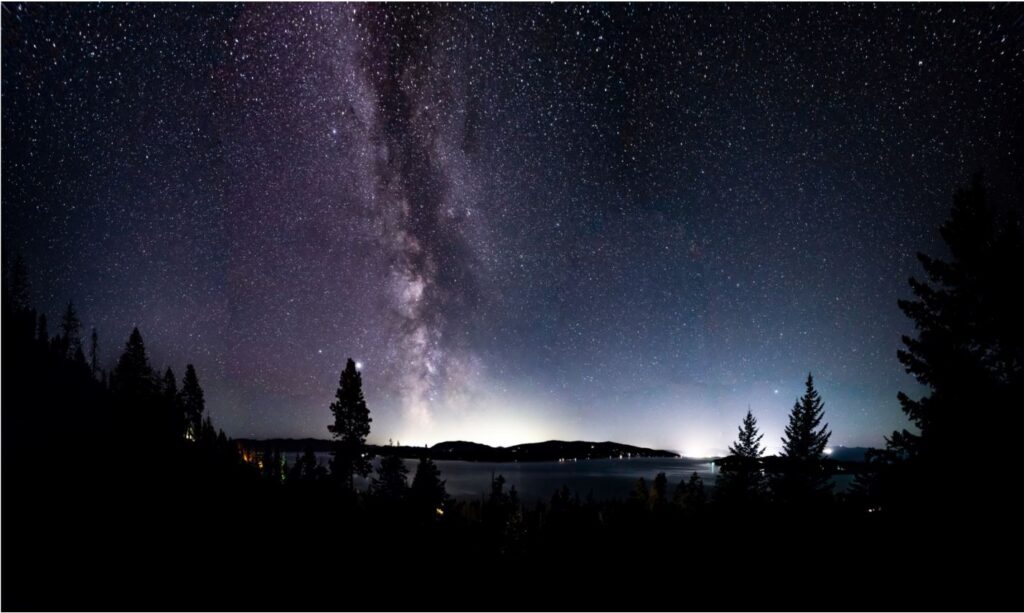 Ok so you live in Japan….now what?
Since we aren't vacationing to Idaho anytime soon (or retiring) it gives us the opportunity to really think about how to develop this land. We will take on the project in three phases: Phase I – Prepare land for development, Phase II – Small usable dwelling, Phase III – Permanent home.
Phase I: Minimal work is required to get the land ready to build and use. First we are going to have to grade out the driveway and clear brush for the future home site. We will also be filling in a sloped area to increase the level buildable land area to at least 45′ x 80′. Since we already have septic, water, and electric this is the more boring phase and we will likely do this in 2021 or 2022.
Phase II: The land can be used for camping or with minimal cost/effort can be transformed into a RV site or support a small container home. Our plan is to HipCamp the land until we put something small on the property to use ourselves (Edit June 2021 – so far so good! The campers come on the weekends during nice weather and send us gorgeous photos). After that we will Airbnb it until we are ready to build something permanent for a retirement / vacation home. We have been looking into small/inexpensive home options like Boxabl, Escape, and Intenta to get some ideas. We will likely do this in 2023 when we come back to the U.S. after Japan and gives us proper time to research our best options.
Phase III: This will be the fun phase and we will hire an architect to ensure we are maximizing our water views, have an amazing shower (Keith's requirement) and has an outdoor hot tub (again, Keith). We want something small/medium sized (~1,800 sq./ft.) but with nice amenities and is not a log cabin. We are going to take our time picking out the intricate details that we want to see in the final build and then haunt our architect to figure out how to make it all work. We aren't sure yet when this is going to occur but the plan is to have this so it is usable as a vacation home, Airbnb, and finally our retirement home (for the spring/summer/fall at least).
Why the secret project? We weren't sure when/if we would find a property. After we ruled out Michigan, it became a blank slate of searching and even when we put an offer on the Eagen Mountain property the process took so long it could have fallen through any day. We didn't want to get over-excited, tell everyone and then it not happen. But it finally did (a year later) and it's time to finally be excited and tell everyone we know! Since we are master secret keepers it was second nature for us ;).
The great thing is that boat slips are 1 mile away at the entrance to our neighborhood (now we need a boat friend). Skiing in the winter at Schweitzer Mountain Resort is just 30 minutes away.
Now accepting reservations and name ideas for the property!