One thing that really made our adventures in India and Nepal meaningful was the ability to give back. I didn't grow up with the ability to travel around the world. Now that I can, I often feel guilty in buying experiences for myself that are "just for fun". Booking our trip through G Adventures allowed me to do some legitimate good with my hard-earned money rather than just spending it on a temporary experience for myself. (I can't say this for every G Adventures tour, as some have disappointed us. But the giving back portion of Nepal was spot on.)
During our travel through Pokara, Nepal, we spent an afternoon cooking with SASANE. I could not have been more humbled by this group of talented women. SASANE is a survivor-led organization, established in 2008, that means "Let's protect ourselves". It is founded and run by survivors of human trafficking. They take their painful experiences and use them to combat the exploitation of Nepalese women and girls and to create social change.
They don't only work to end trafficking, they also lift survivors up by providing them with tangible skills. They teach paralegal skills so that they can go on to fight legally for victim's rights and provide for themselves. They run a cooking class (which we adored), where particpants learn presentation and English skills. AND they run a community outreach program in rural villages where teenage girls are most vulnerable. SASANE's mission is to end the physical and sexual exploitation of young girls in Nepal. Their work is life-saving.
These women taught us the art of making Momos (Nepali Dumplings!) with their bare hands, shared their inspiring story, and served us a delicious meal. You can buy their cookbook of more than 20 recipes for $10 here. All of the recipes serve 4-6 people and are DELICIOUS. They have easy step by step instructions with photos for beginners.
Directions:
The Dough:
1. Prepare the dough – place flour in a bowl and add the water. Mix together and form a dough. Knead for about 10 minutes.
2. Create a ball of dough and grease by adding a little oil all over. Place it in a plastic bag for 30 minutes (this keeps the dough soft).
Momo Filling:
1. Grate or chop cabbage and carrots and place in large bowl. Take handfuls, squeeze the water out, and place in another large bowl.
2. Finely chop the onion, spring onion, and coriander. Add them to the cabbage and carrot mix. Mix well.
3. Add the salt, cumin powder, ginger paste, garlic paste, and momo masala to the vegetables and mix well.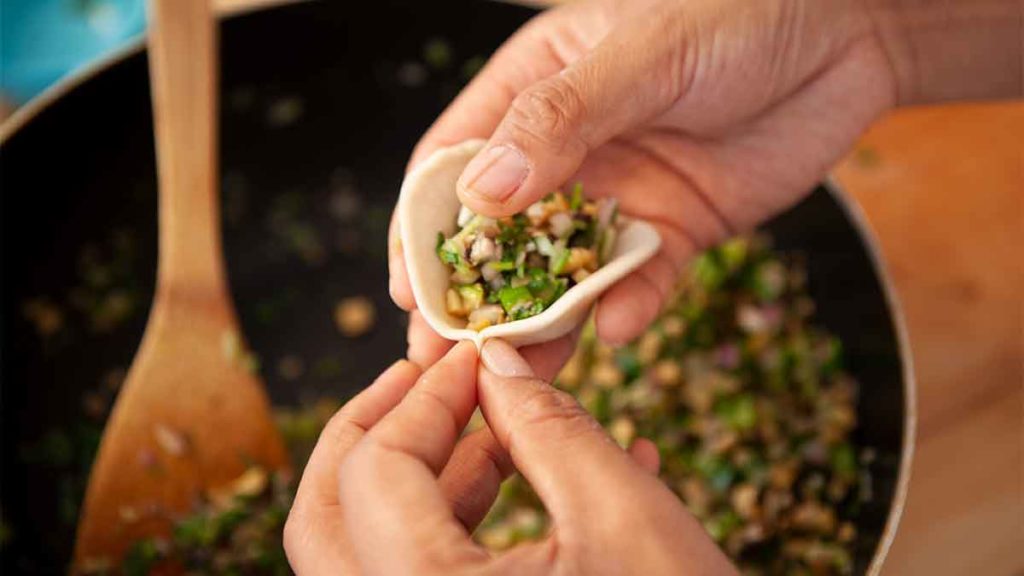 The Momo Method:
1. Divide dough into smaller balls – take one and roll it flat on a floured surface, so it is not too thin, but not too thick. Take a glass and cut out circles of dough with the rim of the glass.
2. Fold your momo. Take a circle of dough, cup it in one hand, and place a small amount of filling inside the circle. Use your other hand to pinch the edges of the dough closed around the filling with your thumb and index finger.
3. Place your momos on the top level of a steamer pan lightly greased with oil. (No steamer pan? Use foil and ceramic. This linked recipe also uses meat, if you're interested!)
4. Boil water in the bottom pan. Once boiling, place the steamer filled with momos on the top. Cover with lid and steam for 12-15 minutes. (For chicken or meat momos, steam for 15-20 minutes).
5. Serve hot momos with tomato and coriander sauce (or hot chilli garlic chutney!). Enjoy!